Our Most
Eco-Friendly
Range to Date

Making the entire process of
sending your drinks through
the post 100% recyclable
Rose Miller, 7th November 2023
In the current climate, being an eco-conscious company is no longer just a nice-to-have but an essential part of creating an ethical brand. According to a Deloitte study on What Consumers Care About, one in four consumers (26%) are willing to pay more for sustainable products and packaging.
So to meet the growing customer demand, suppliers are having to improve their sustainability efforts on all fronts just to keep up.
And we are no exception! At WBC, we like to think we are in tune with the changing needs of our customers, and sustainably is always a top priority for them and us.
We've listened, we've worked hard and we're pleased to say we now have our most eco-friendly protective packaging range to date.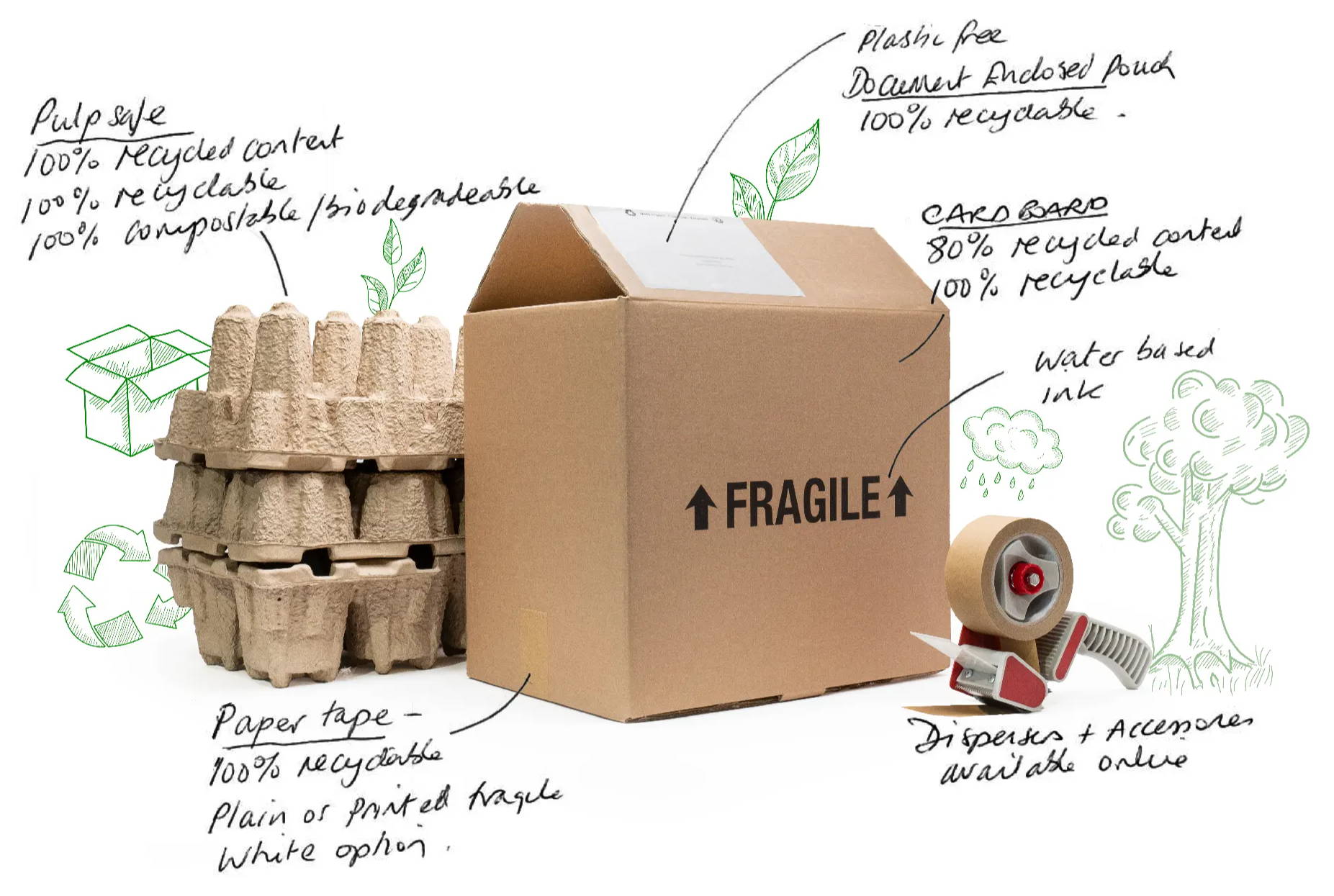 What makes up our
most eco-friendly range?
Sending and delivering drinks not only requires the actual packaging to parcel your goods, but also all the extra bits from tape to outers. With our latest eco options, the entire process of sending your drinks through the post can be 100% recyclable.
"...not only is Pulpsafe a sustainable packaging option, it also does not compromise on safety and security."
Pulpsafe
Made from 100% recycled material, and 100% compostable, recyclable and biodegradable, our Pulpsafe range definitely ticks the eco box.

Pulp is made by combining water and recycled paper, most often card offcuts, recycled newspaper or a combination of both and then moulding it using wet pressing technology. The moulded pulp is then heated to give it strength and rigidity. What this tells us is that not only is Pulpsafe a sustainable packaging option, it also does not compromise on safety and security.

Designed to fit a wide range of bottles and cans, we provide options from 1 to 12 bottles, as well as options to fit wine, champagne, magnum, beer and gin bottles, all of which are DPD approved. We are proud to have the DPD tick of approval to ensure we are doing our utmost to adhere to safety requirements.
Honeycomb
So often, retailers and food and drink producers have to compromise on the aesthetic or quality of their packaging materials to ensure sustainable credentials are met. Honeycomb is a non-plastic alternative to bubble wrap that also looks the part and comes with a whole load of plusses that bubblewrap does not have - win win.

Honeycomb packaging is made entirely from recycled materials, uses less paper in the construction process and is biodegradable and compostable. Due to its lightweight and compact design, it also requires less space to store and transport which decreases the carbon footprint needed for transport.

To go the whole hog, discover our honeycomb paper dispenser for customers that like the idea of creating an in-house packaging operation. The heavy-duty "manual dispenser" makes wrapping fast and efficient and helps to reduce waste.
The finishing touches
The key to our most eco-friendly protective packaging range to date is all the extras that we've worked hard on. From the tape you wrap your parcels in, to the documents pouch inside, the whole process of sending your drinks with us can be 100% recyclable.
If you need that extra protection you can still keep it clean with our Card Tray Protective Outers that are made from 70% recycled content and 100% recyclable.
Now you're set for transit packaging, and you're ready to wrap it up. Our paper based plastic free Kraft Tape is 100% recyclable. Comes in plain, fragile or white so take your pick.
Lastly if you're looking to enclose an envelope inside but wary of adding extra packaging, our Paper Documents Enclosed Envelopes are 100 % plastic free, recyclable and biodegradable.


Are you ready to shop sustainably? With special offers and bulk buy saving options across all the products mentioned, you can save as you shop our 100% eco transit packaging range today.