Gift packaging trends retailers need to know
Rose Miller, 25th August 2023
The Christmas season can bring in revenue for retailers like no other time of year. Whether you are a small delicatessen or a larger food company, retailers who are on top of the gifting trends, and know what their customers want, will be bringing in business left right and centre. According to Speciality Food Magazine, cheese shops over Christmas sell about six times the volume of cheese as a normal week and ten times the volume of blue cheese. That's a lot of cheese!
It's safe to say there is a business opportunity to take advantage of over the Christmas season, so not staying abreast of gift packaging trends will mean losing out on a large cash injection for your business.
Let's take a look at the 2023 gift packaging trends that will keep you ahead of the game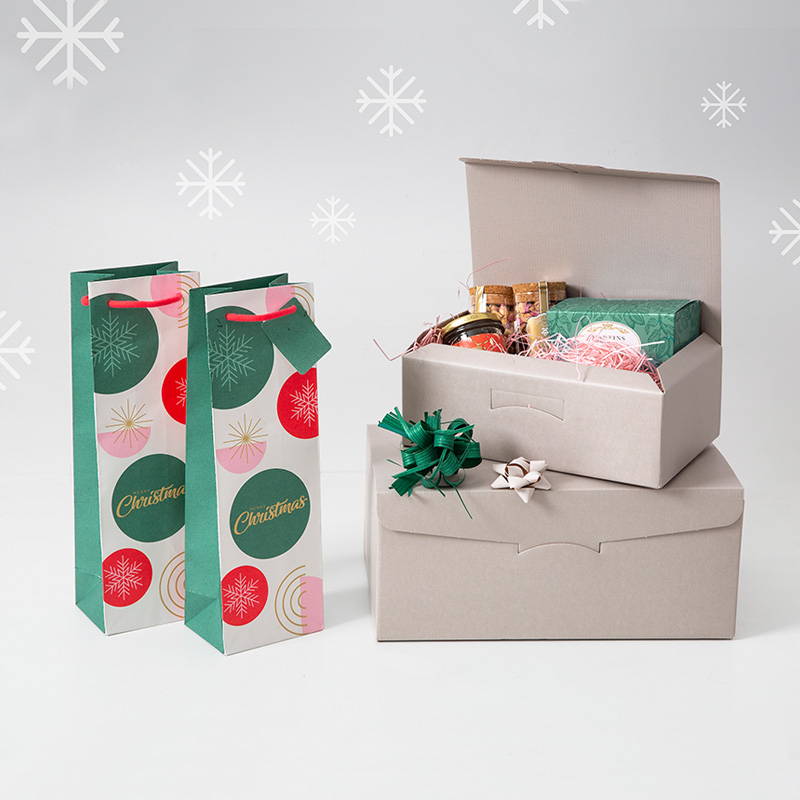 The sustainable packaging market is growing fast to meet demands from eco-conscious shoppers. A research study by Zion reported that the market is set to reach $358 billion, equivalent to £308 billion by 2028. In other words, the trend isn't going anywhere and it's time for retailers to get on board or fall behind.
Not only will you be meeting demand, but you'll also be setting yourself apart in a busy market. Creating a sustainable range amongst a lot of non-recyclable, highly polluting wrapping will immediately give you a much-needed USP. For example, offering a pre-made hamper, entirely recyclable from the card hamper to the shredded paper, right through to gift tags, is a brilliant way to make eco-friendly shopping easy. For more info on sustainable gifting, check out our eco-friendly hampers and trays, all made with sustainability in mind.
Go green with your gift wrapping service
By providing eco-friendly gift wrapping options, you can contribute significantly to reducing the environmental impact associated with traditional gift packaging materials. From recyclable wrapping paper, to card gift tags and paper tape, retailers can inspire and educate customers about the importance of responsible consumption, promoting a culture of conscious gifting and reinforcing their commitment to a greener future.
A recent study by the University of Pennsylvania showed that experiential gifting is most popular these days for creating stronger emotional ties between gifter and giftee. Whilst this leaves retailers stuck for how to compete, personalised hampers have become a popular choice that gives retailers a chance to offer a more meaningful, personal gift option. Create pre-made gift boxes or offer customers the option to build their own hamper to make sure you've covered off the thoughtful gift trend. We pride ourselves on offering an exceptional - and speedy! - personalisation service for many of our products, including gift boxes, hamper boxes and fabric bags.
A notable trend that has emerged through the Cost of Living Crisis is consumer's increased preoccupation with price. Customers are far more considerate around spending, and so retailers should always be offering different price points and value options to accommodate all budgets.
Make sure to have different size hampers on offer, with gift boxes filled with your most premium items right through to your most affordable.
Creating gifting options for all budgets means no matter who walks through your door or clicks on your online store, there is something for everyone.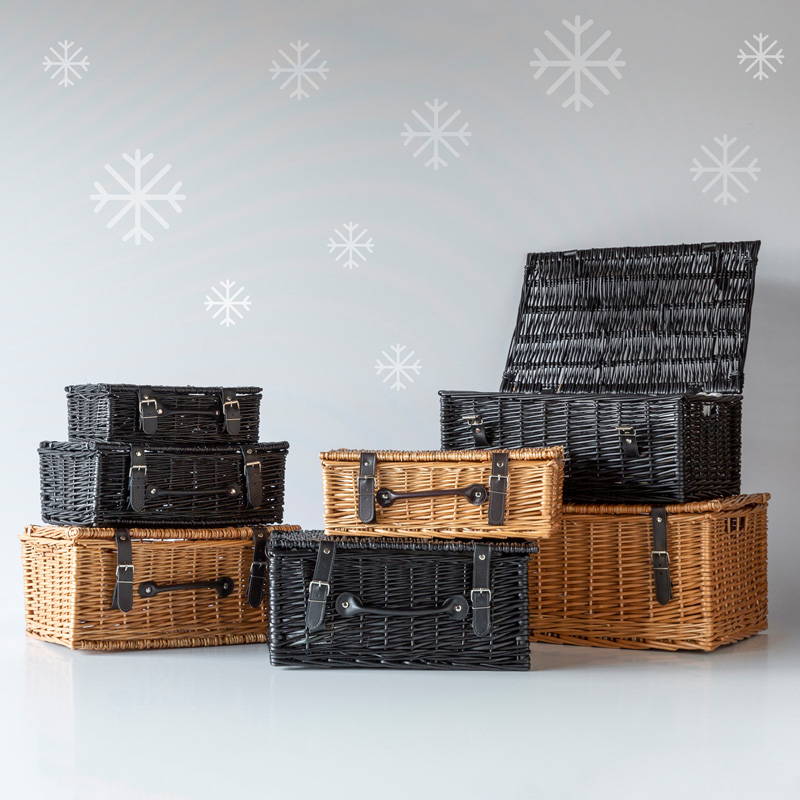 Traditional Hampers are back in
During the pandemic, businesses faced significant challenges acquiring and maintaining stock, due to a lack of factory workers, shipping issues and various other factors. For retailers, the stock issues meant a lack of intricate design items such as wicker hampers or wooden hampers.
Good news is production is back in full swing and wicker hampers are making a comeback. However, they are not the most affordable choice, so be sure to cover the trend whilst also ensuring you have a variety of value options available.