Published by ben@wbc.co.uk BigCommerce on 31st Oct 2023
The last year has proven how much having an online presence, ideally a transactional store, is a godsend, especially for so many specialist wine retailers.
While online retailing may not be the reason you get out of bed in the morning and like me you probably cannot wait for more face to face time with customers and colleagues, the fact is, none of us can afford to look a gift horse in the mouth.
Throughout the pandemic, I've read many articles about the importance of eCommerce, how to get started, how to maximise sales, and how the digital world of retail has changed things forever. Sadly, a lot of these articles are like a book with the last chapter missing. For online wine retailers, one of the most important parts of the jigsaw is the last part - safe delivery to the customer. Without that, there is no business.

As a packaging company, we are constantly asked by customers which wine boxes are courier approved and by which couriers. It's a minefield, but here's an overview of where we're at as an industry.
Gone are the "good" old days of "Post Office Approved Packaging" or our original favourite, Bob at Wine Couriers (East Grinstead) who would take your wines packaged in whatever they came in. Back then, 5-10 day delivery was the norm and your bottles were certainly not doing the rounds on automated sorting conveyors. Today, how to get fragile, often high-value bottles, safely to customers is still the million-dollar question.

At WBC we have a vested interest because we sell transit packaging for bottles, it's how we started and continues to be at the core of our business. After 30 years immersed in cardboard, it pains me to say I still struggle to run off a list of the best couriers for transporting bottles.

Some couriers admit on their websites to carrying bottles, even insuring consignments, but only if they are properly packaged and they stop short on what "properly" packaged actually means.

The good news is for the first time in many years, possibly due in large part to the pandemic, couriers are waking up to the fact that delivering wine is a fast-growing and lucrative market that they need to take seriously.
It's a headline we never thought we'd ever see but following rigorous testing throughout the DPD network over the last few months, we are delighted that DPD have now formally approved our Pulpsafe range of 100% biodegradable, compostable and recyclable shipping boxes for wine, beer and spirits.
It's a massive step forward and we are confident that more and more national couriers will look to carry liquids in approved packaging, a big step for the industry after years of confusion.
In our experience, most couriers appear happy to ship single, double and triple wine shipping boxes so long as they are sent in robust outer cartons with cushioned inserts that hold the bottles away from the outer case.

The issue comes with 6 and 12 bottles where the vast majority of breakages occur. To be fair to couriers, they have invested heavily in expensive sorting systems. When bottles break and liquid gets into these, it can be a serious issue, not to mention the collateral damage liquid causes to other parcels. You can see why they'd be cautious carrying them.

For couriers like DPD, approval necessitates weeks of testing including filling our transit box samples with bottles and sending them through their systems up to 6 times in the same packs to various parts of the country. It has been a long time since a courier 'went public' with their approval, and whilst it does not mean they will automatically insure the consignments, we understand that this is something that can be agreed upon with individual DPD account managers.
Our aim this year is to push the rest of the main courier companies to clarify what they will and will not accept and to get as much packaging approved as possible to give you the widest choice.

Delivering wine is an expensive business by the time you've paid for the packaging and the courier charge. If money or environmental concerns were of no object, we'd all use polystyrene (polysafe postal packs). It's practically bomb-proof, quick to use and the smart option, albeit one that could lose you money on lower value wines. But cost and environmental objectives are valuable to many of us, so we've laid out a helpful guide of some realistic alternatives.

All our options are available direct from stock from the WBC webstore, and if you're stuck, our team is on hand to advise you and your business on the best options available to you.
1 Star – Single Wall card and is suitable for instore, carry home use and for distribution in your own vehicles

2 Star – Double-wall card that starts to offer high enough levels of protection for distribution with a careful courier (like APC)

3 Star – Quadruple wall – this should get safely through most courier networks but is unlikely to be insurable

4 star – Card Outer plus cushioned insert – this is very effective in most courier networks and we are working on getting formal approvals

5 star – Card outer plus cushioned/high impact insert – almost guaranteed for safe arrival and the first types of packaging that couriers will approve and generally offer insurance on.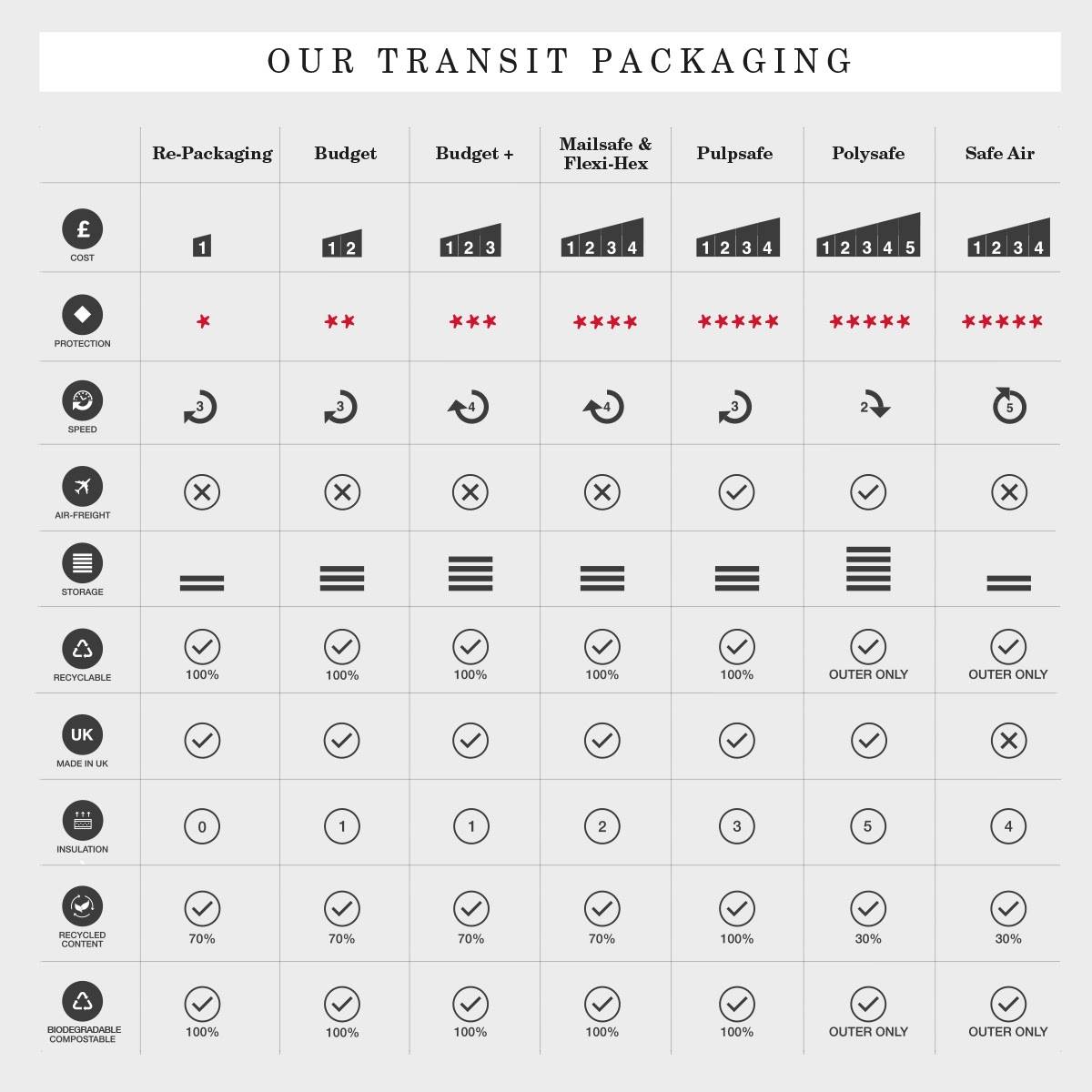 As always, it is about finding a balance between cost and security, and some of this will rely on trial and error. Some couriers are better than others and some depots are better than others. There is no exact science to this but there is safety in numbers and it falls on all of us in the industry to share our failures and successes, all of which come down to experience shared... With hundreds of customers comes a lot of useful feedback, we will always be happy to share that with you.
Do call or email our very experienced transit packaging team on 2020 7737 9500 or sales@wbc.co.uk