Published by ben@wbc.co.uk BigCommerce on 30th Oct 2023
Handmade Food - Transforming a retail space
Rose Miller, 4th April 2023
When Jon Hallett and Charlotte Falconer set up Handmade, it was initially a cafe. But like many businesses, the Covid pandemic saw a shift that meant an uncertain future for their passion project. That meant a rethink and the decision to recreate Handmade as a deli that would also offer a catering service for their neighbourhood in Blackheath.
Such a change meant their premises in Tranquil Vale needed to be transformed into a place that would showcase their new offering. It would be a vibrant deli, packed with food that was impossible to resist and would also showcase options for their catering business, which provides delicious finger foods and buffet dishes - all created from locally-sourced ingredients and products - to local businesses in the area.
Nowadays, they speak passionately of: "counters and fridges are full of vibrant salads, freshly baked savouries and sweet treats to take away" as well as shelves: "packed with products from passionate small-scale and independent suppliers".
But those heaving counters and packed shelves didn't appear out of thin air. Charlotte and Jon knew what they wanted to create, but needed expert help to turn their vision into reality.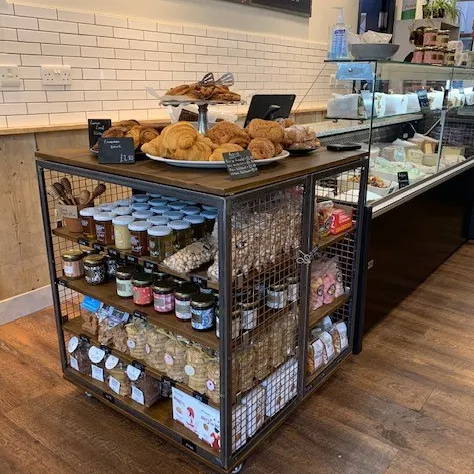 Their visit to WBC's showroom in August provided the solution - sparking their imagination and providing the starting point and expertise for what is now literally the 'shop window' for their business.
"The remit for this visit was clear that the Covid chapter encouraged a rethink for their business," recalls Gerry Moss, Retail Development Manager at WBC.
"What was once a full café with inside seating, Handmade, modified their business to showcasing deli and catering services whilst reducing seating to a small, limited amount, 'al-fresco'."
The product that would prove to be key in that recreation was WBC's BRIX modular display system, which gives those using it the freedom to create unique displays perfect for any size and space, without the complexity and price tag of some bespoke solutions.

After seeing BRIX in situ in the showroom, Charlotte and Jon realised it was the perfect solution to transform their cafe into a deli where their wares could be easily presented in the most tantalising way possible.
"Going to the showroom and the tips and knowledge Gerry provided were very helpful in coming up with a creative plan on how we would go about doing this project," said Jon.
It also meant they could completely overhaul their premises at an already-difficult time without the added strain of a huge price tag.
BRIX doesn't just look the part. It's the perfect practical solution for small and large businesses looking to create an eye-catching display.
Made from a small range of components that can be joined together with simple connectors, BRIX can be used to create displays that can evolve with any business, whether that's making them bigger, smaller, or different shapes and layouts. Essentially, the displays it creates are bespoke. But instead of being made once for a specific purpose, they can be recreated again and again as those purposes change.
On top of that, BRIX is made from quality material, giving it an artisan, high-quality look yet without the cost that often comes with bespoke displays. It's also easy to buy off the shelf, taking away the headache of finding a shopfitter, getting displays designed, and having to outsource everything.
"Almost every display created for this business using our BRIX range came from our showroom displays and combinations. We provided all the items needed for their shop," said Gerry.
"The BRIX range is and was instrumental in recreating their business identity simply for the reason being that it's modular," he explained.
"In the case of this business, our product along with their own DIY skills allowed them to obtain an off-the-shelf stock product, delivered to their door at a date they were ready to receive it."
The product was a no brainer in terms of solution, but the icing on the cake was the expertise from WBC's team.
Rather than having to order 'blind' from a website, Jon and Charlotte's visit to the WBC showroom was followed by two site visits. The first was a consultation at Handmade pre-launch, so WBC could advise them on everything from product placement, window communications and merchandising and display opportunities, bringing their broad knowledge of display in general as well as of BRIX specifically to provide invaluable advice to use it in the best way possible.
The team then returned post-launch to assess the displays and offer suggestions and improvements, from product groups to window displays, store signage and communication.
"In addition to BRIX being the right product for HANDMADE, their showroom visit and our onsite consultation, we created a robust experience not commonly found in e-commerce business in today's world," Gerry added.
That extra level of service not only ensured a happy customer, but helped maximise the capabilities of BRIX to create an eye-catching, easy to use display in a unique venue.
For Charlotte and Jon, the entire experience was memorable for all the right reasons.
"The whole process was incredibly efficient and it only took a few weeks to put everything together," said Jon. "Gerry's extensive knowledge of the industry and his enthusiasm really made the process enjoyable.
"Although we did add some elements to it, the BRIX remain the staple piece and is very useful because we can change up the space by just moving them around."
The best way to see what we do and how we can help them is to see it with their own eyes.
At our 1,600sq ft design studio and showroom in Herne Hill, south-east London, our customers can see our latest collections of retail furniture, countertop display, gift packaging and fabric bag designs, as well as getting expert advice from the right member of our team.
If people can't get to us in person, we offer interactive virtual tours and online consultations.
Whether in person or virtually, our consultations are free. All you need to do is book an appointment in advance so we can make sure the right expert is available. Book now here.