Published by ben@wbc.co.uk BigCommerce on 31st Oct 2023
5 INDUSTRY TIPS FOR INCREASING PROFITS THIS CHRISTMAS
In a year steeped in uncertainty, one thing is certain, gift-giving and mail-order looks to be bigger than ever.

According to eBay, more than a quarter of UK shoppers plan to get their Christmas shopping in early so they can send it in time. More than a third have already purchased. But along with changing plans and priorities, so have interests and incomes with this year many shoppers thinking about their finances as they enter the gift buying process.

What does that mean for you?

1. Plan ahead, making sure your margins make sense.
2. With the threat of increased lockdowns, ensure gifts are transit and mail compatible
3. Offer a variety of price points including entry-level, mid-tier and luxury.

Below is a checklist of tips we've learned from retail experts over the years that we hope help you maximise your sales this festive season.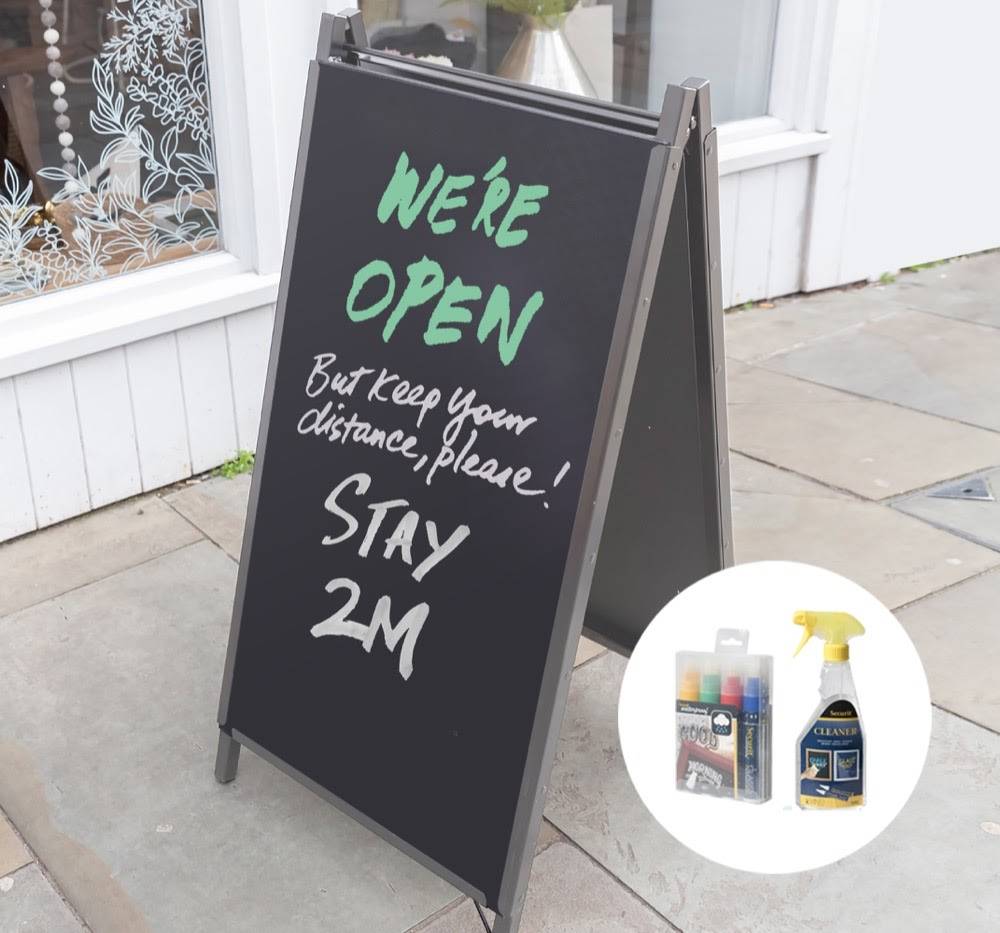 Too much information and we switch off. Too little, and customers may miss you altogether. As Christmas shopping ramps up, it's fair to say nerves may still be on edge for some shoppers. So when it comes to creating a safe and welcoming space, communication is top of your list to instil the confidence that says you have it all under control.
There are 3 elements of in-store graphics and communication to watch out for.
Announce – Shout your brand name before and when they enter the store. Also, think about reminding customers that you've created a safe space. Are there safety requirements you need to communicate before they enter? This is a chance to stamp your mark. You could even change your message each day to keep it fresh and stand out. A-frames and chalkboard signage are great ways to change your message on the fly.
Amplify – Where you direct your customers around your store, so they effectively locate products while reminding them to social distance at the same time. Have you thought about creating a one-way system? In-store signage will help you control customer flow.
Inform – Where you communicate to customers all the key and important facts about your products and promotions. This includes product offers & pricing.
Key products: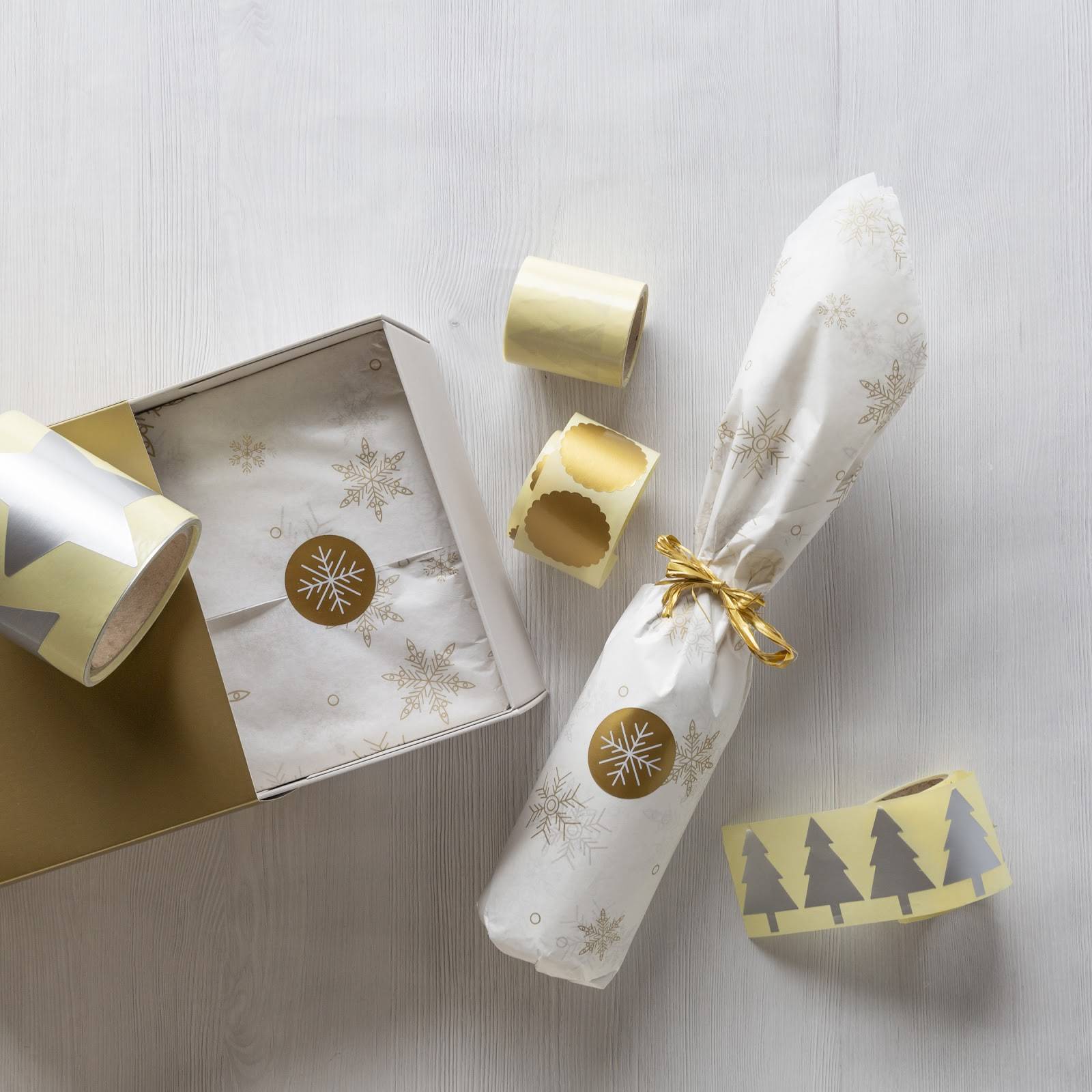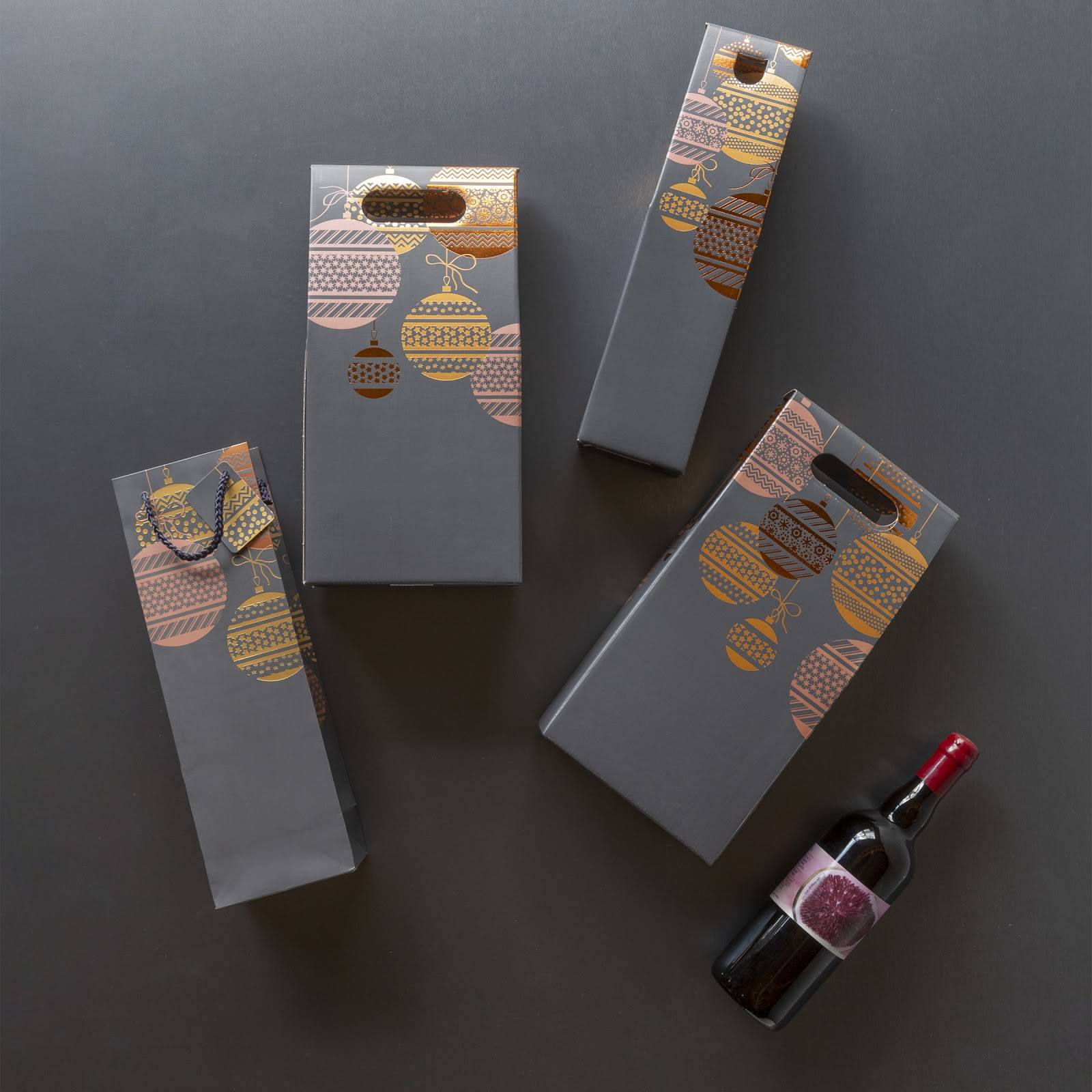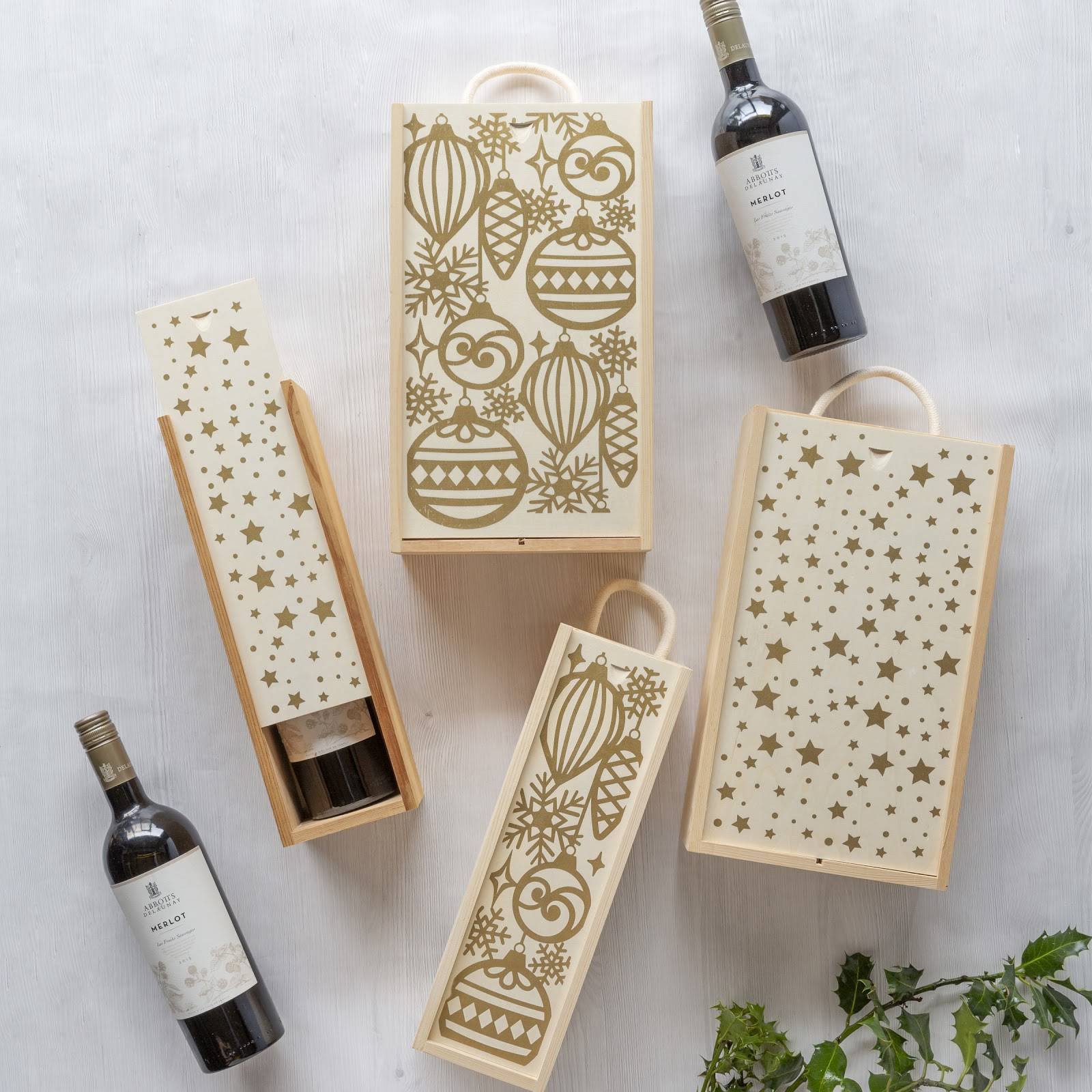 From left to right; Entry-level options like wrapping a bottle in tissue, costs pennies and adds value , Cartons and bottle bags are great mid-tier options, Wood & wicker catapults gifts to the height of luxury
We've learned a thing or two about gifting over the years. By focusing on a smaller range of proven bestsellers you can offer a tight range of gifts at various price points, minimising stock and maximising sales at this crucial time of year.
Break down the cost of each component noting the cost price of the contents and packaging and what you can sell it for. Create a minimum of three price points in line with your customers' budget: entry level, mid-range, and luxury. You can see how we've done this using a bottle of wine. Highlight your levels in-store using WBC's store signage and ticketing collection, or online.
Interesting fact. When you offer customers a three-level pricing option, customers generally choose your middle option. That's the power of retail psychology.
You alone know your customer and what they can afford, £25, £50, £75?
By selecting ready-made options they'll thank you for taking the hard work out of the decision-making process.

Whatever you do this Christmas, make sure the gifts you offer, can also be sent through a courier network if required. Luckily with the addition of strong transit outers and some decorative cushioning material, most of our products can be transformed into a courier ready gift.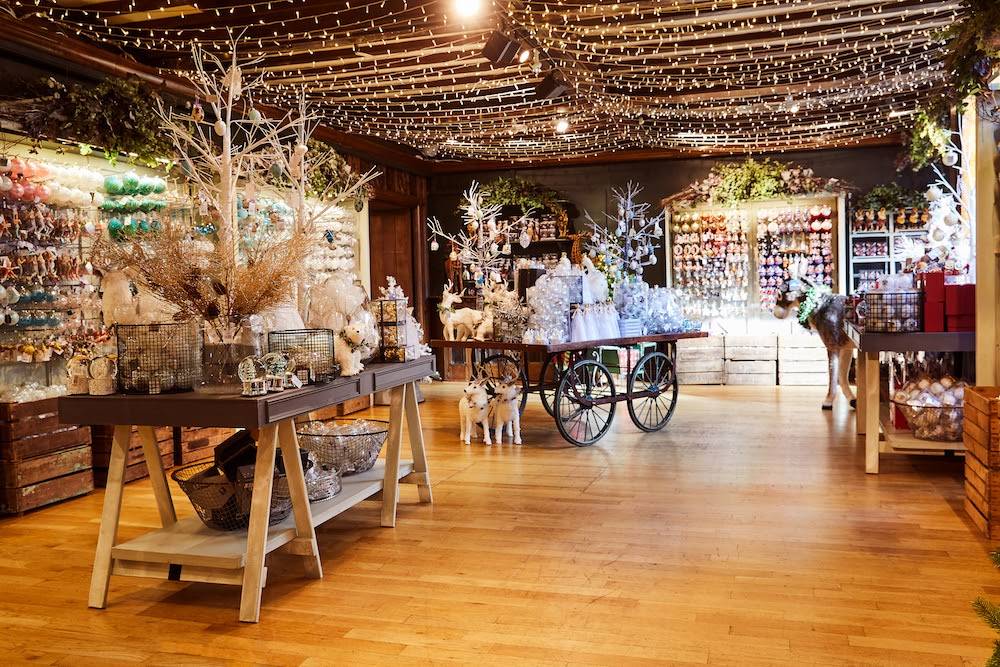 An effective display or in-store sales promotion can increase sales in excess of 540%. And a well-planned hotspot by 229%. Not bad for a bit of clever rearranging.
Hotspots are great for pushing key products whatever time of year, but at Christmas they're essential. We asked Retail Manager Trevor Fisher, of Wines Direct how they plan to promote their Christmas lines this year, he said:
"We turn the tasting area of our store into a section purely for Christmas gift sets. For customers specifically looking for gifts, it narrows a 2,500 sq ft store down to a simpler section to shop, really important with the new social distancing guidelines. It makes shopping easy and hassle-free for the customer. I'd always recommend retailers consider changing and adapting their space from time to time, especially at Christmas."
Start by setting up a dedicated display table in-store to showcase your gifts. You'll find lots of options in our retail furniture collection or you could opt for a WBC market cart like the one spotted here in Liberty London.

Don't forget about the area around your till. There's a reason big retailers like Tesco and Lidl, place low-cost add-on Christmas purchases such as gift bags, wine accessories and even ribbon in the final leg of a customer's journey. You may just inspire customers to leave with something more than they came in for.
This holiday season, the in-store experience will be more important than ever. That starts with making it as easy and accessible for customers to shop in whichever way that need. Offline or online, every channel needs to be open to them.
Salesforce did a recent study that showed "brands and retailers offering a click and collect service (or buy online pick up in store - BOPIS) saw 56% more active shoppers in the lead up to Christmas compared to those not offering the perk.
Along with click and collect, call and collect and grab 'n' go hampers, if you have the space, why not consider offering a gift-wrapping service, 'free' for items above a certain price point.
Offering add-on services like these not only increases sales but has a knock-on effect on customers coming back time and again. At WBC, we have all the tools needed to get you started - from gift box to all the beautiful finishing touches and outers to send it.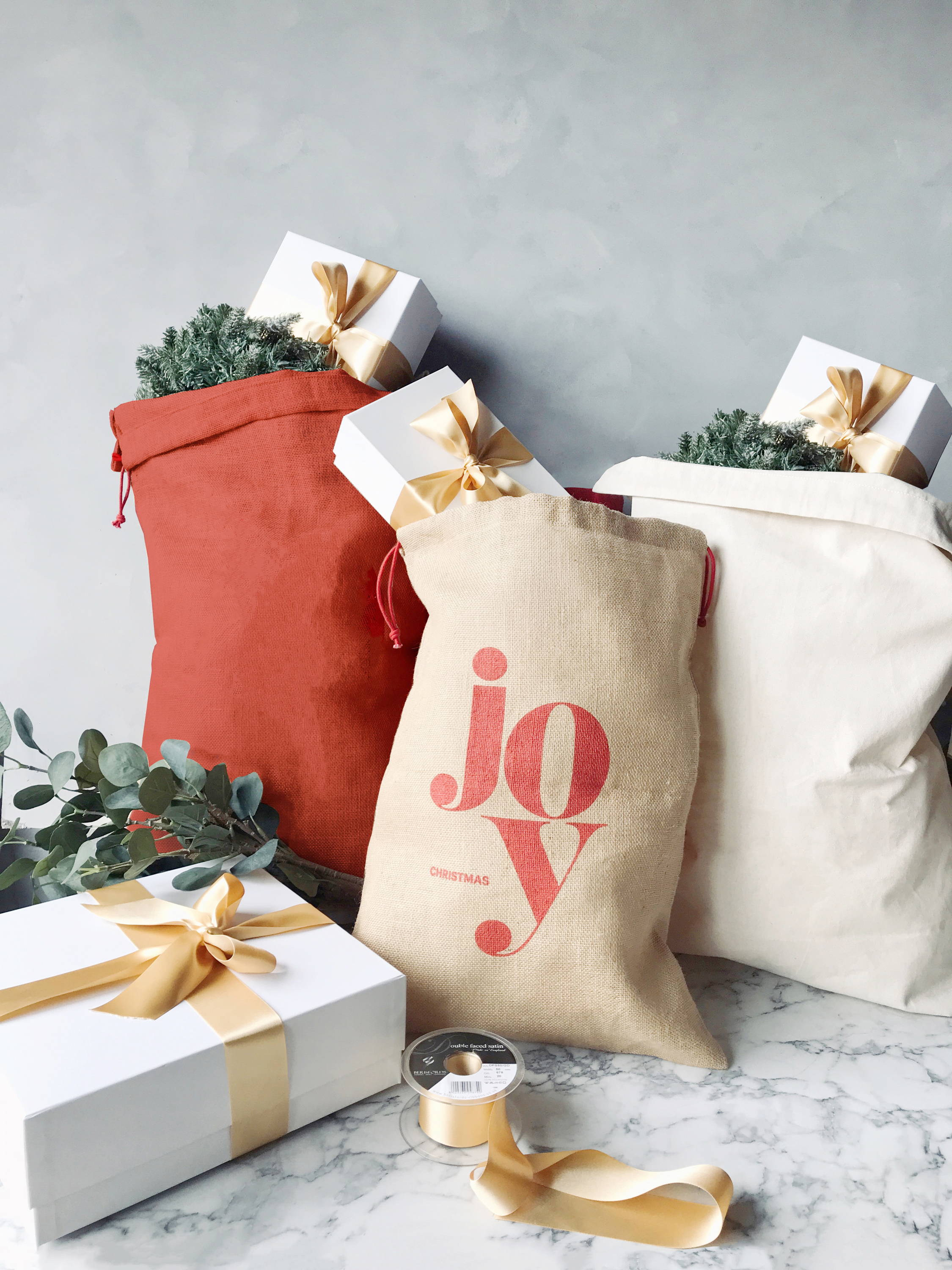 You've heard of a hamper basket or hamper box, so why not a hamper bag?
Fabric Bags are traditionally marketed as shoppers. Yet more and more customers are using them to turn their goods into an economical hamper.
Bags are cheaper than premium wicker, so they offer retailers an extra price point too. Depending on the content and the bag you choose, bags can either fulfil one of these price points or all three.
This season we have a brand new collection of festive-themed Santa Sacks that can be purchased off the shelf, plain or overprinted with a company name and logo using our 7 days printing service. That's a gift for you too if you consider they could be promoting your brand all around town.
Bags are a great way of stock cleaning slow-moving lines of product too. All you need to do is create differently themed hampers that tap into your customer's imagination.
Our friends at popular online hamper company Highland Fayre offer a 'Life's little Luxuries' hamper bag packed with lovely chocolates you would love to eat, but probably never buy for yourself. They also offer a 'Delicious taste of Italy' hamper in a reusable jute bag. The ideas for themed hamper bags are endless, and you'll be best placed to know your demographic and what might excite their interest.
Here are some other hamper bag ideas we've seen our customers try out, maybe it's just the season to try it out for yourself.
The bakers' bag

The kids cupcake making bag

The DIY curry bag

The Beer making kit bag

The Sugar-Free Hamper bag
All the product featured on this page can be purchased online from stock, next day delivery and no minimum order.