Published by ben@wbc.co.uk BigCommerce on 31st Oct 2023
TOP 5 CHRISTMAS HAMPER PACKAGING BEST SELLERS
Not normally ones to kiss and tell, when it comes to WBC's Christmas gift packaging bestsellers, we're always happy to.
With more than 1000 gift packaging lines ready to go in our warehouse, it can be helpful to have a few tips on where to start. With these proven bestsellers, your gift offering will remain on trend and hopefully selling right through the festive season.
Before we delve into that, a note of caution. When planning your gifting, it's worth mentioning that while we have tons of smashing new Christmas specific designs this season, there are some cost effective ways to consolidate and make your budget stretch further. If budget is tight, consider purchasing a plain packaging or colour scheme that you can use year round, then simply dress it with appropriate finishing touches for the occasion.

Our Christmas brochure is out now and features beautiful photography of our best bits for the festive season. We're stocked up and ready to go, and as always, our team is on hand to offer help and guidance if you get stuck.
Easy wins and easy profits is always a good place to start. If you've yet to discover the handiness of a simple hamper tray, you've come to the right place.
Trays easily make our top 5 because they're massively popular with all manner of delis, farm-shops, and gift retailers year round. Why? Because they're low-cost, flat-packed for easy storage and can be made up in seconds.
Perfect for gifting smaller items like chocolates and deli consumables, their versatility makes them a winner for the time poor. It also makes offering a gift-wrapping service, or a "pick your product, we'll wrap it before you even leave the shop" service, a total reality.
For the corporate gifting market, staff presents, or sending gifts to clients, trays help you produce in bulk in record time. There are even clear lids to hold and protect contents as well as postal outers designed specifically to send them safely through the post.
This season is all about finding new ways of meeting the needs of all your customers. This year more than ever, that starts with what's in their wallet. Hamper trays come in several sizes, perfect for offering a variety of price points to suit all budgets that come into your store.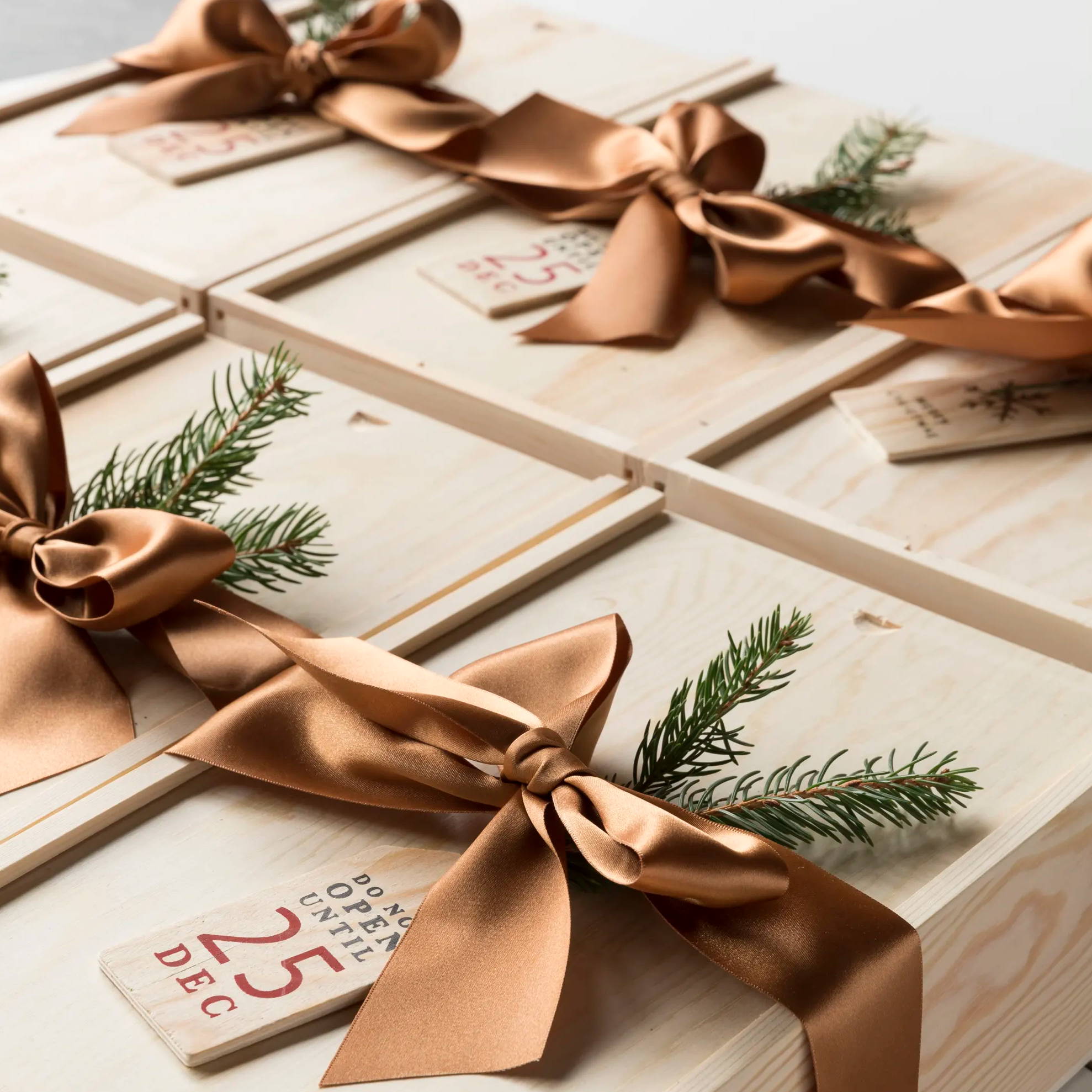 It's no accident the wooden gift box makes our top 5 bestseller. Over three decades since we started trading, our one-bottle wooden wine box remains without doubt our biggest selling product of all time, and one of our most popular at Christmas.
Wooden gift boxes are an affordable luxury that immediately adds perceived value and gives your customer two gifts for the price of one.
Our most popular economy range version comes with a sliding lid and dividers for two bottles or more. Specialist wine and drinks retailers love these not just because they look smart, but because they hit a price point that is affordable, and when combined with one of our strong transit outers, are the perfect solution for sending as a wine gift with careful couriers.

Every year we release a limited range of Christmas designs. Shop the collection now while they're in stock and plain versions can also be overprinted with a company name or logo using our 7-10 day printing service. It's a service that makes them doubly popular for corporate Christmas gifting.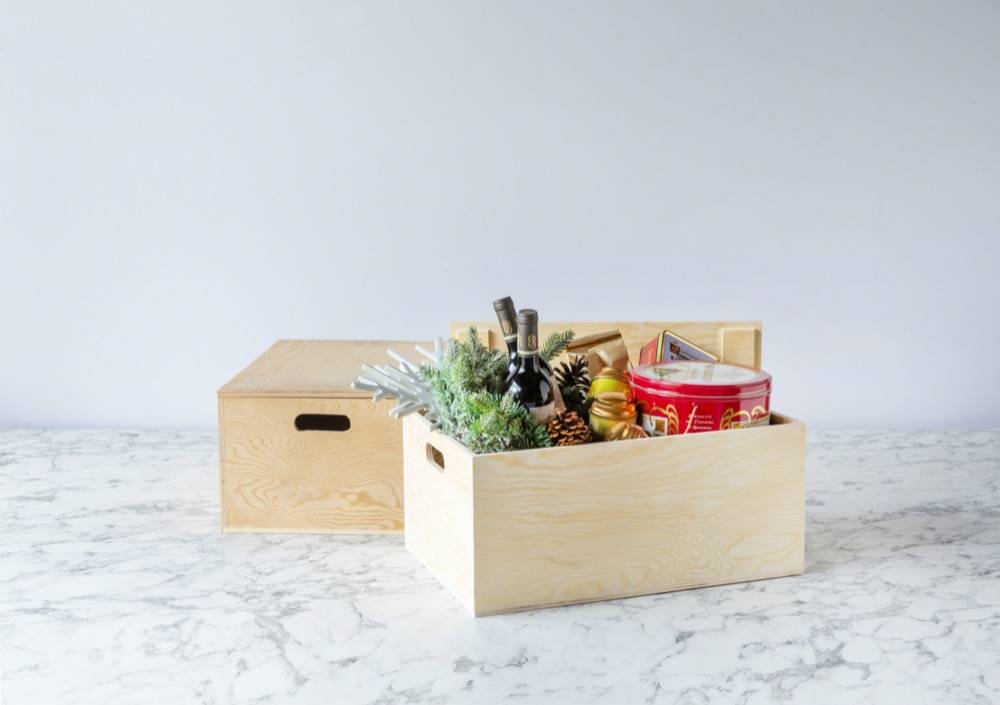 Wooden hamper boxes are not just for the wine lover though. How's this for a modern alternative to wicker? This large wooden hamper box holds just about everything you could ever want in a hamper. Then when the contents have been thoroughly enjoyed, it's a gift that keeps on giving!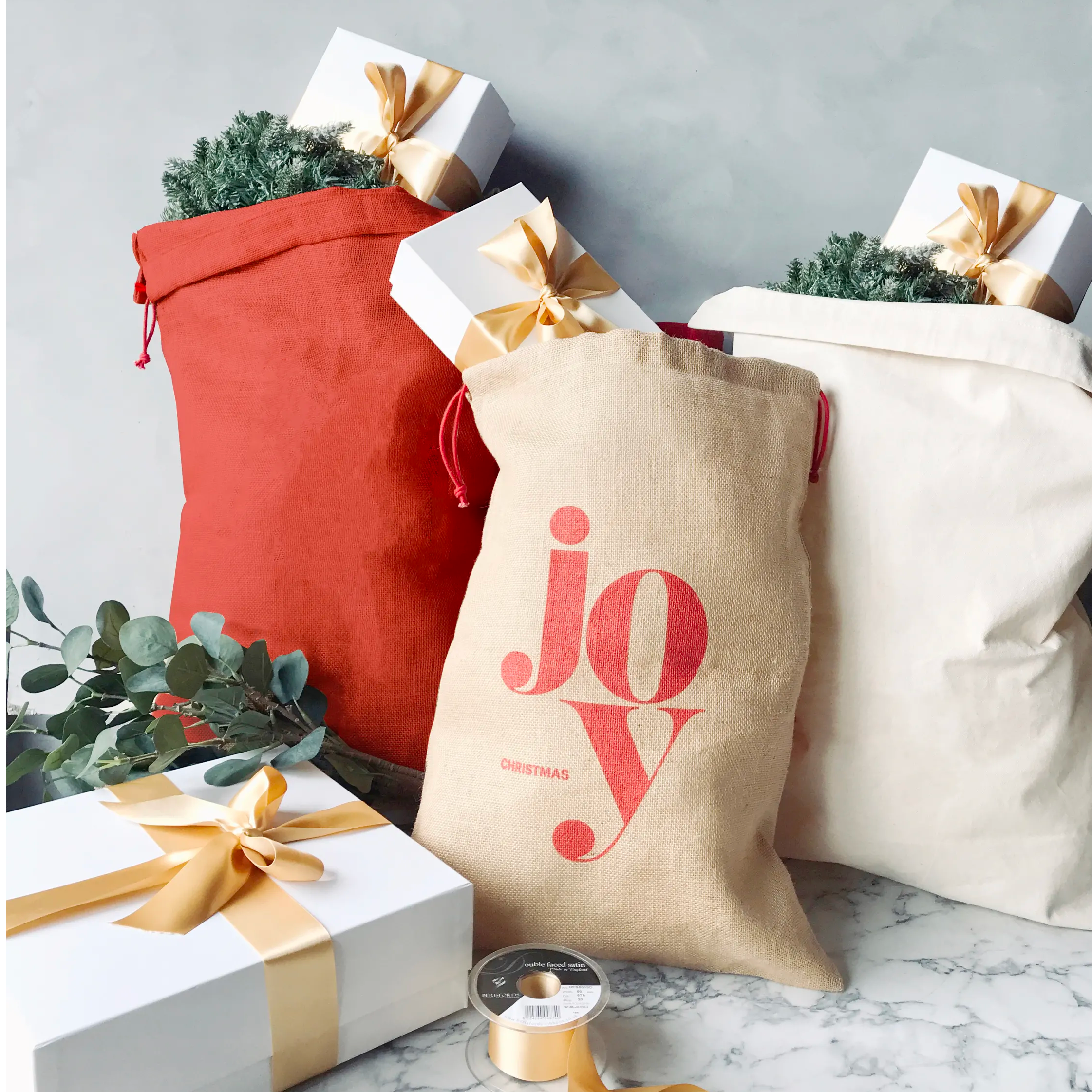 If you've ever wondered what's in Santa's sack, we can honestly tell you that it's mainly profits and less headaches as you enter the gifting season. Jute gift bags require no assembly and take up little space when storage is at a premium
Designed and printed exclusively in house, our drawstring sacks are available pre-printed with a Christmas design, or plain so they can be printed with your own company name or logo.
Sacks would make an eye-catching Christmas window display or in-store merchandising idea. They're as strong as they are soft making them perfect to hold any items from gift boxes, to Christmas puddings to toys and decorations.
All plain gift bags and sacks can be personalised, whether you want to overprint them with your company logo or with a special Christmas message. Call us today to speak to our print professional who will guide you through the process.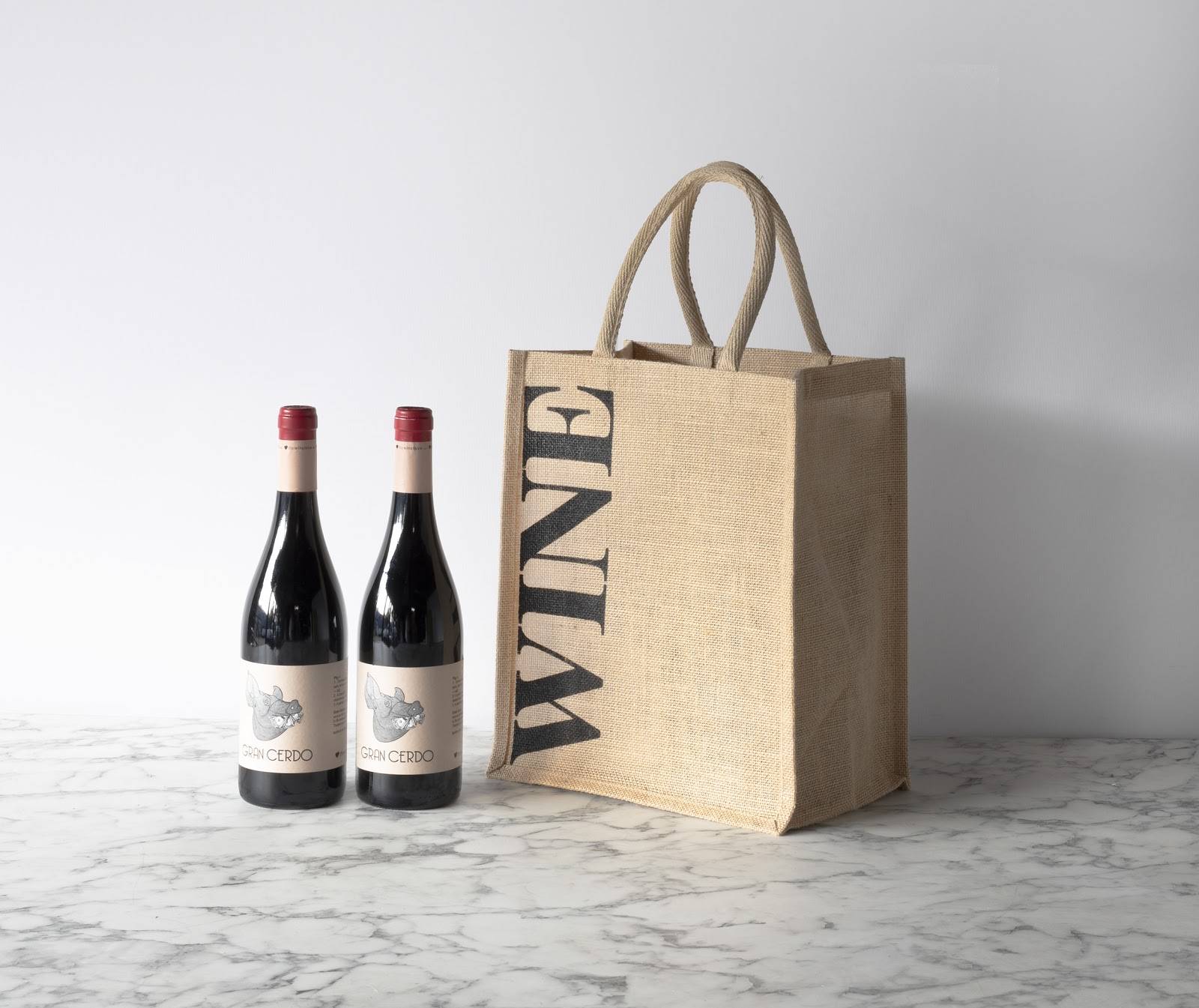 If you sell drinks, jute bottle bags offer great margins throughout the year, but these festive designs are sure to keep your tills ringing.
One of the easiest ways of generating additional profit this Christmas. Investment in stock and retail space is minimal and and retailing for at least double the wholesale price, you can quickly see why their bestseller with wine merchants and drinks retailers.
Don't forget to make sure your bottle bags are always on display with handy merchandise units to help boost your impulse sales.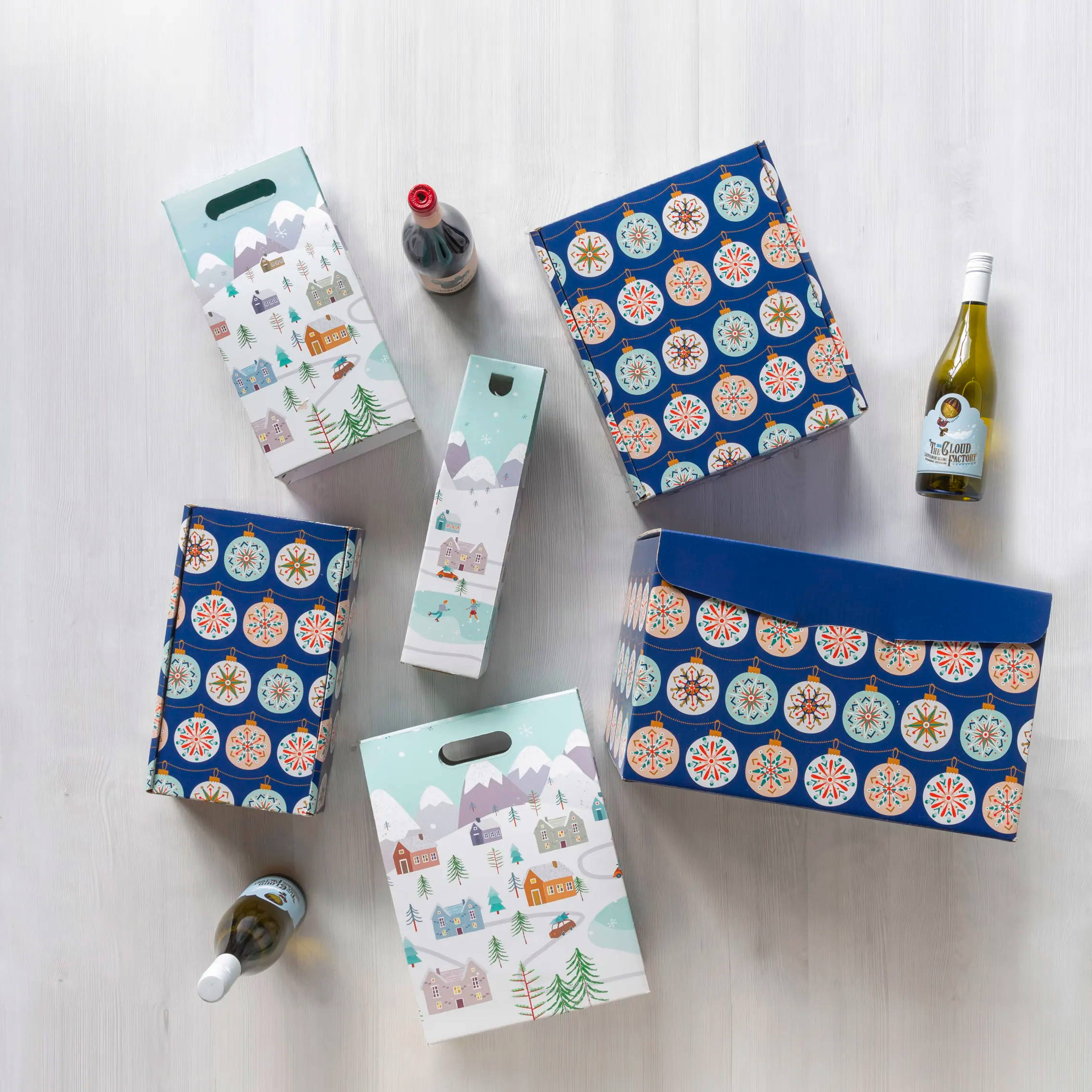 4. CARD BOTTLE GIFT BOXES

Card Bottle Gift Boxes like these bestsellers really make Christmas gifting easy. It's a simple job to turn smaller individual items like chocolates or a bottle of wine into beautiful hampers worth more in value, using these timeless packaging designs.
We have a range of cost-effective options perfect for corporate gifting and staff incentives.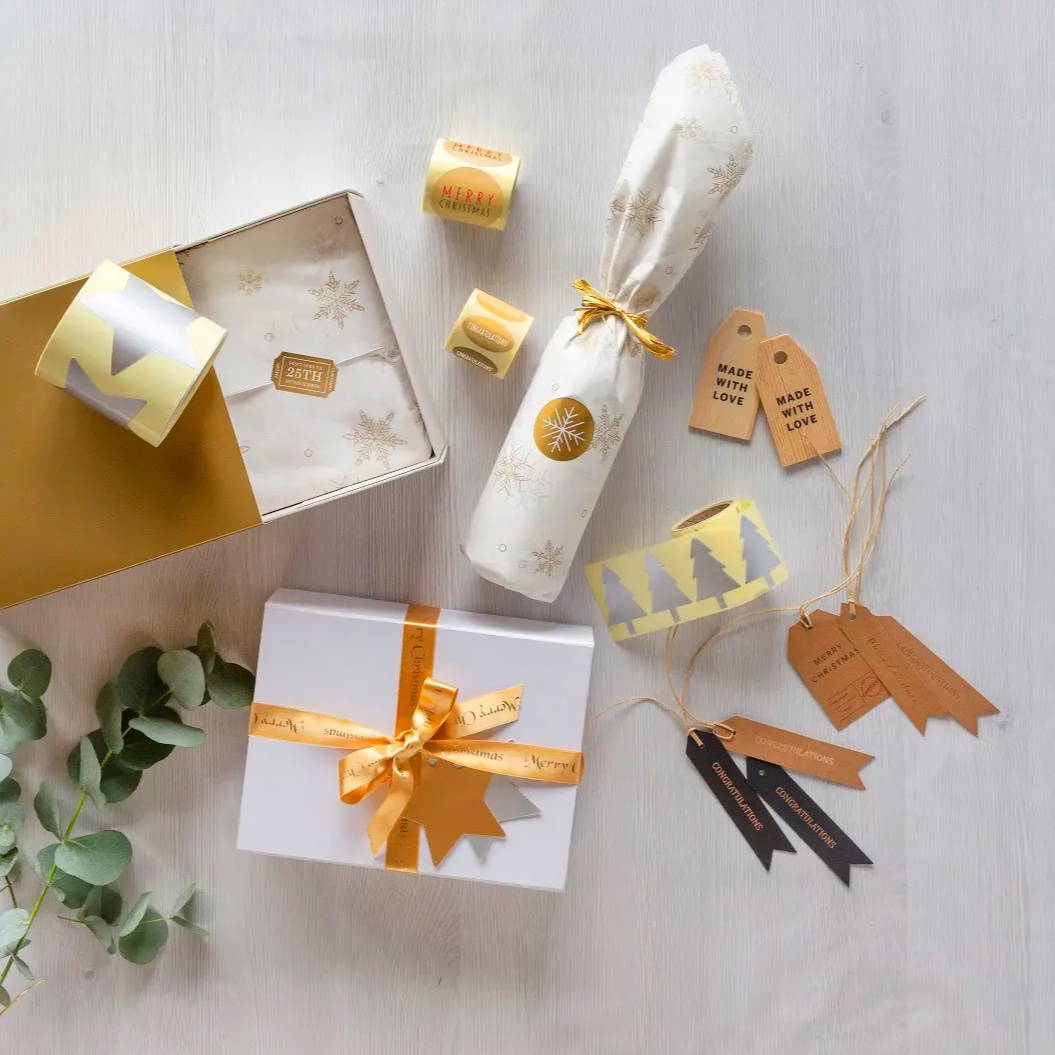 We always say it's all in the finishing touches, but it's true! Simply how you decorate can personalise your gift and change it's look in an instant. It means you rarely have to overstock because one simple gift box can be dressed a hundred different ways.
We always say it's all in the finishing touches, but it's true! For a few extra pennies, decoration can personalise your gift and change it's look in an instant. It means you rarely have to overstock. One simple gift box, dressed a hundred different ways.
Wrap it, tag it, stick it! As your one-stop shop for gifting, you'll find everything needed to finish off your gifts in style. Here are just some of our bestselling tags and decorations this season, and you'll find the full range online.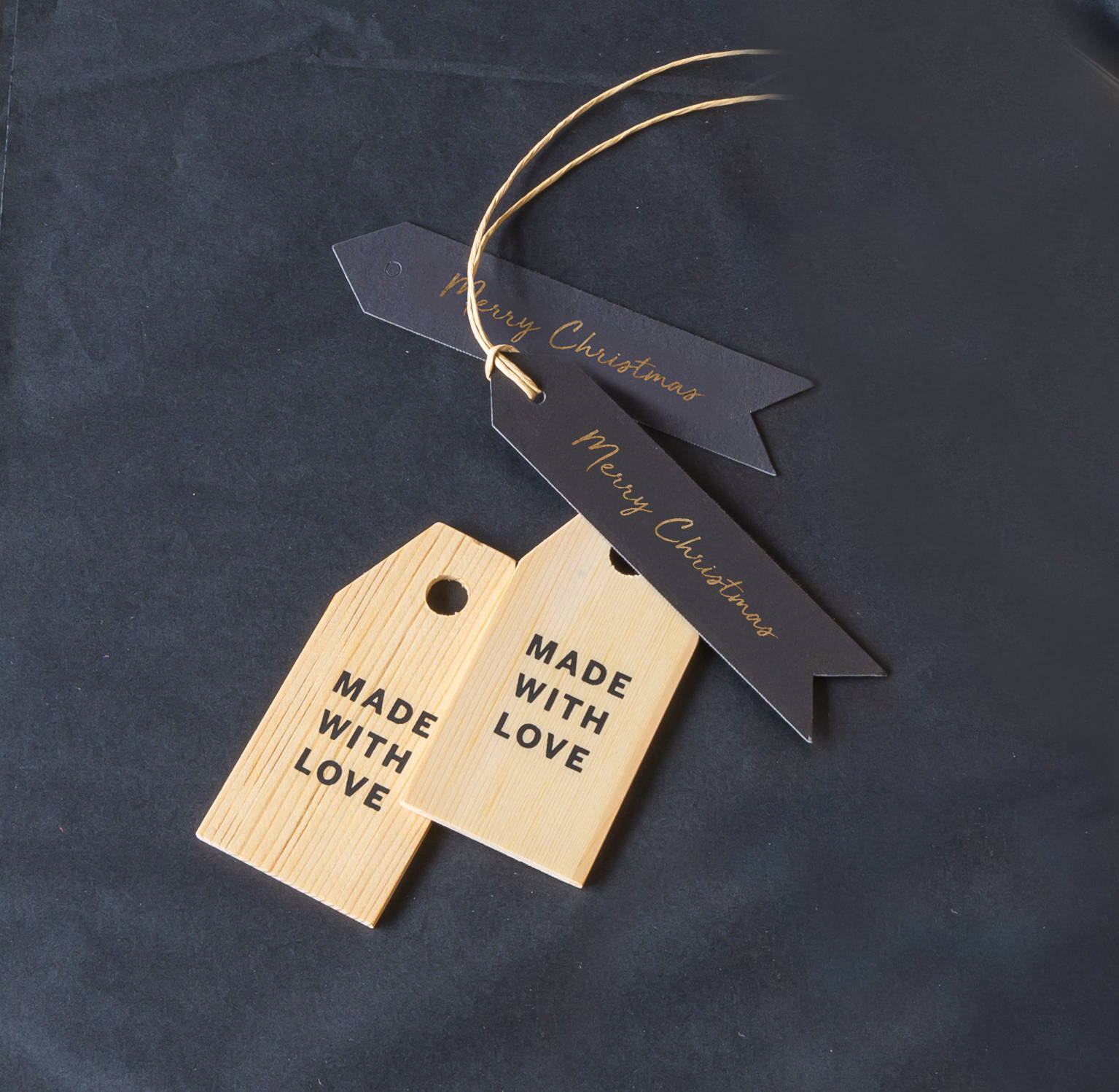 Gift tags make it personal and are sold in handy pack sizes of just 25 pieces, so you could even sell them separately at the till.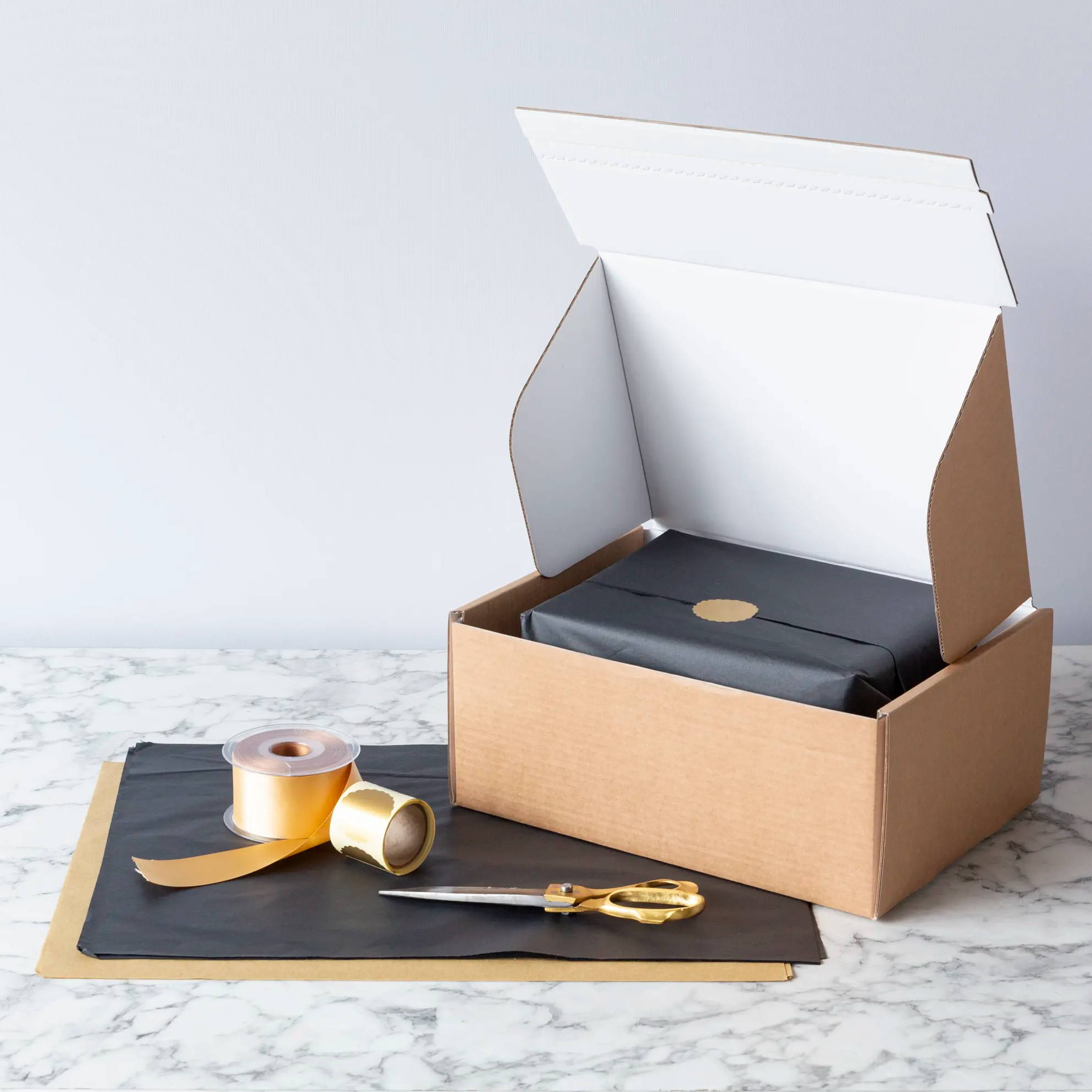 BONUS BESTSELLER: ECOMMERCE BOXES

It would be completely remiss of us not to throw in this bonus top tip for the season. We all know how the retail landscape has changed so much, and this year has already seen a massive spike in online gifting as customers struggle to celebrate face to face.
That's why these quick and easy eCommerce boxes are a retailer's best friend. If you're an online retailer sending corporate gifts or offering a mail order service this Christmas, our range of protective packaging allows you to send hampers through the courier network safely and securely everytime.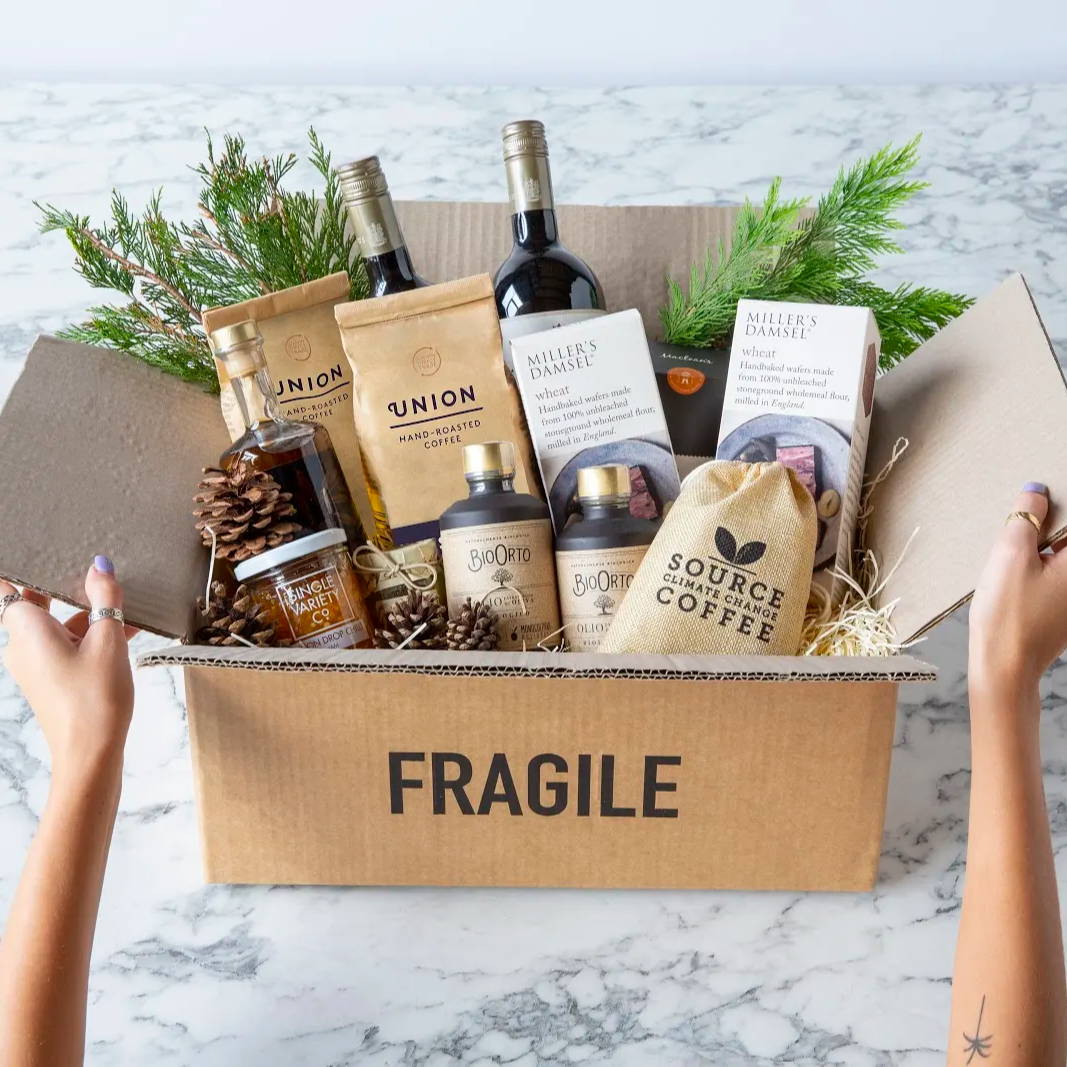 As you start planning your festive offering, remember that most of our products can be printed with a logo and message – so do ask us about our 7-10 days printing service. And don't forget to look out for our Bulk Buy savings on larger orders too.
Our team is on hand and ready to help you in whatever way we can. We have seen how gifting works and it doesn't have to be stressful. You have the goods, we have the packaging to turn it into beautiful (and profitable) gifts. Let's make this end of year a memorable one.