Published by ben@wbc.co.uk BigCommerce on 31st Oct 2023
SIMPLE GIFTING:
IT'S ALL IN THE FINISHING TOUCHES
It may seem strange for a packaging company to admit, but when choosing your gift packaging this year, don't be tempted to go overboard. You'd be surprised how many customers overstock when it's easy to keep a tight leash on your budget by keeping your range to a well-coordinated minimum.
A standard gift tray or a bottle bag costs pennies but can be dressed to cater for a variety of occasions, long after Christmas is done. By taking the time to brush up on some simple decorative tricks of the trade, you'll avoid an unnecessary abundance of product lines and all your cash tied up.
Ultimately, our job is to hold stock so you don't have to. With no minimum order and next day delivery 95% of the time, buy what you need and if you run out, we have you covered. Visit our guide on how to shop with WBC during Christmas for last order dates and turnaround times.
We've pulled together some of our simple finishing touch techniques in one place. Master these, and you'll look like you've been dressing gifts like a pro for years.
How to wrap a bottle

How to tie a ribbon

How to heat shrink a hamper

How to dress trays

How to blend and mix shred

How to turn a jar into a gift
Wrapping bottles of wine, spirits or champagne in tissue is easy to prepare in advance or on the spot in under a minute.
Not only will it look great, but it's an added extra that costs just pennies but speaks volumes about your brand and service. If you don't do anything else this season, make tissue your starting point. And your next step? Drop your tissue wrapped bottle into one of our bottle bags. Gifting done!
Shop our unique snowflake-themed tissue paper for a seasonal way to wrap your bottles in style. Or talk to us about custom printed tissue with your own unique design and brand colours, for more information call 020 7737 9500.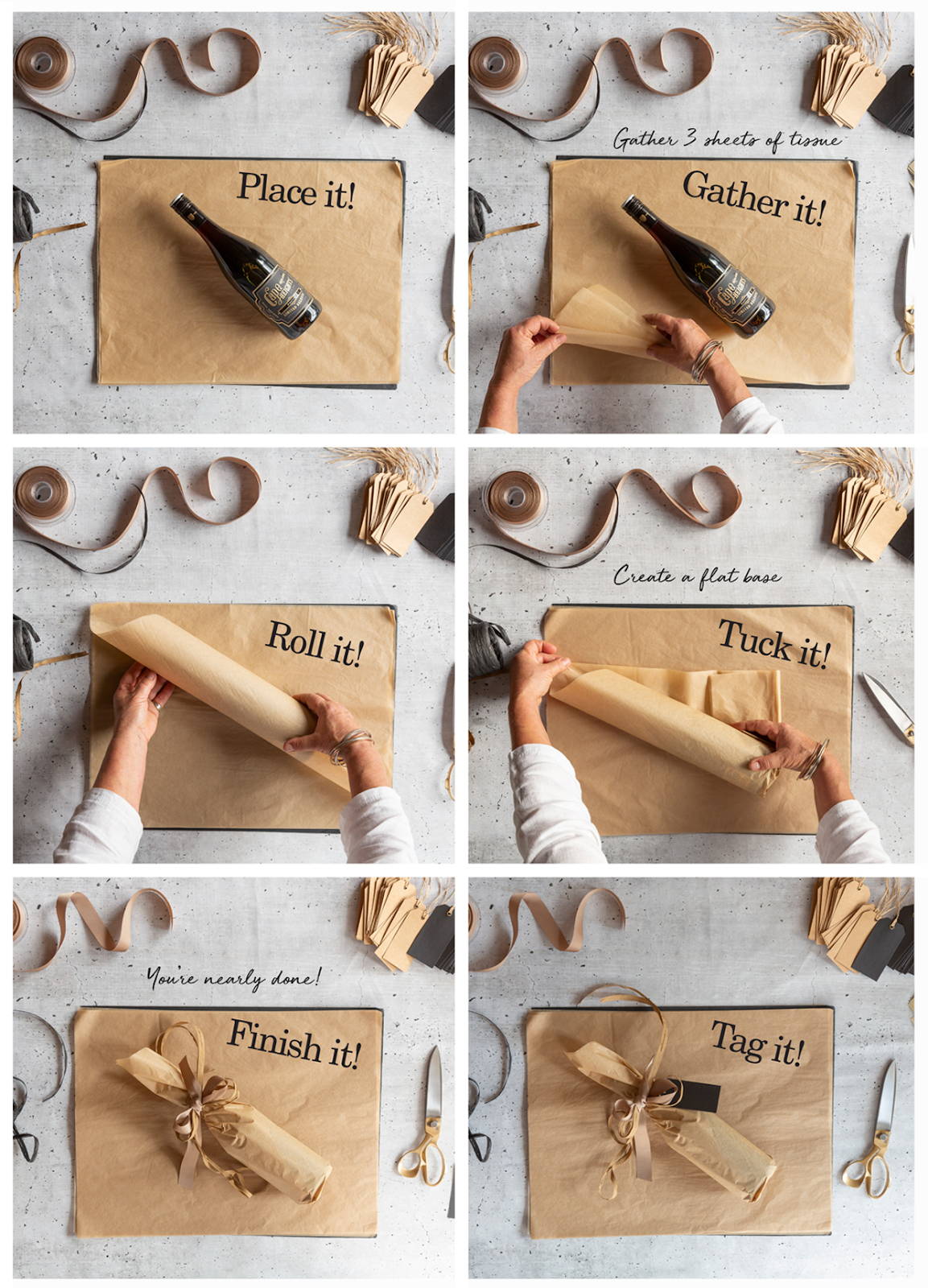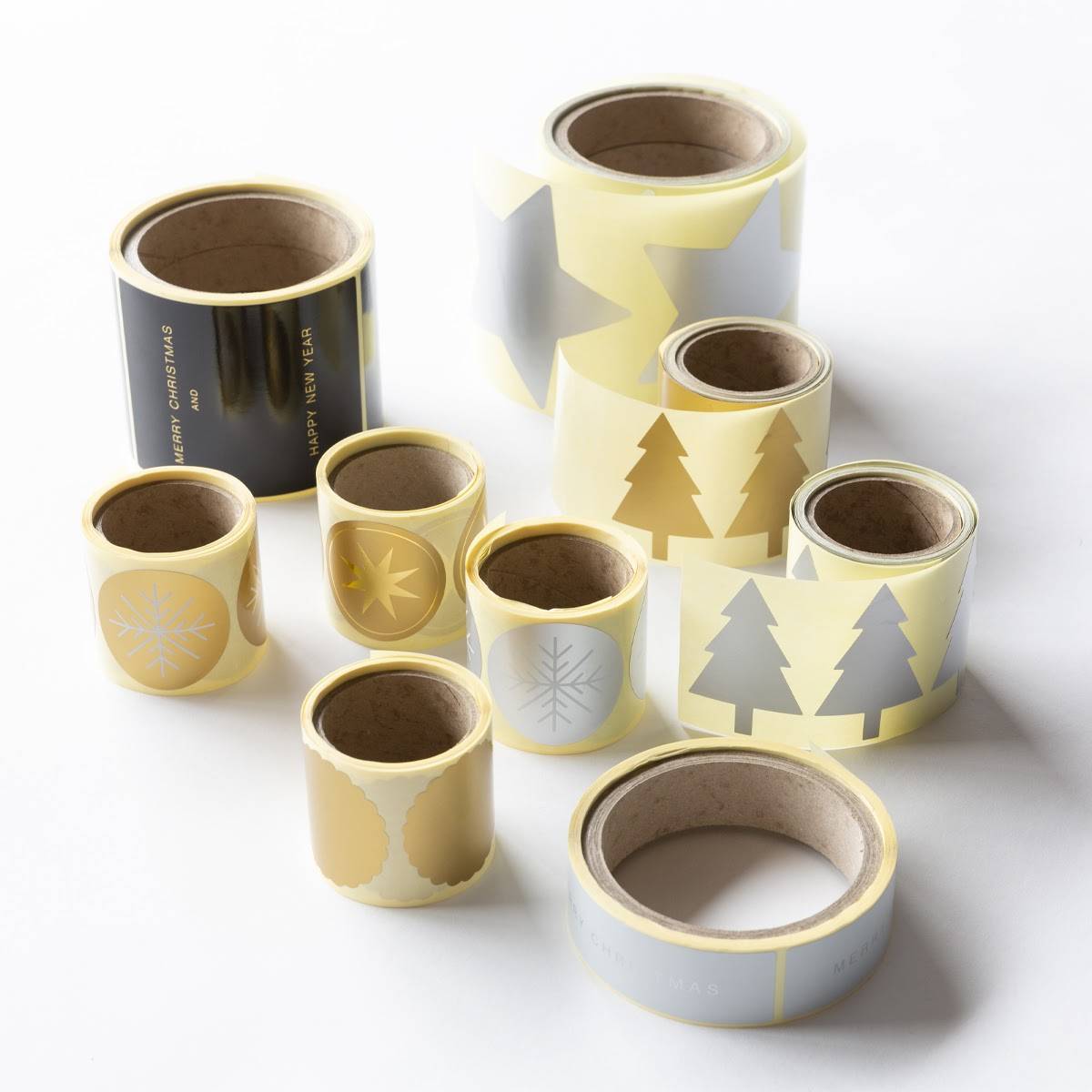 HOW TO TIE A PULL BOW IN SECONDS

This is so simple it almost feels like cheating! But who has time to create anything as perfect as a ready-made pull bow?
Simply cut the ribbon on the dotted lines, holding the two inside tails, pull, sliding one hand away from the other. Hey presto! You've created a beautiful bow tie. Just tie to secure and then wrap around your gift.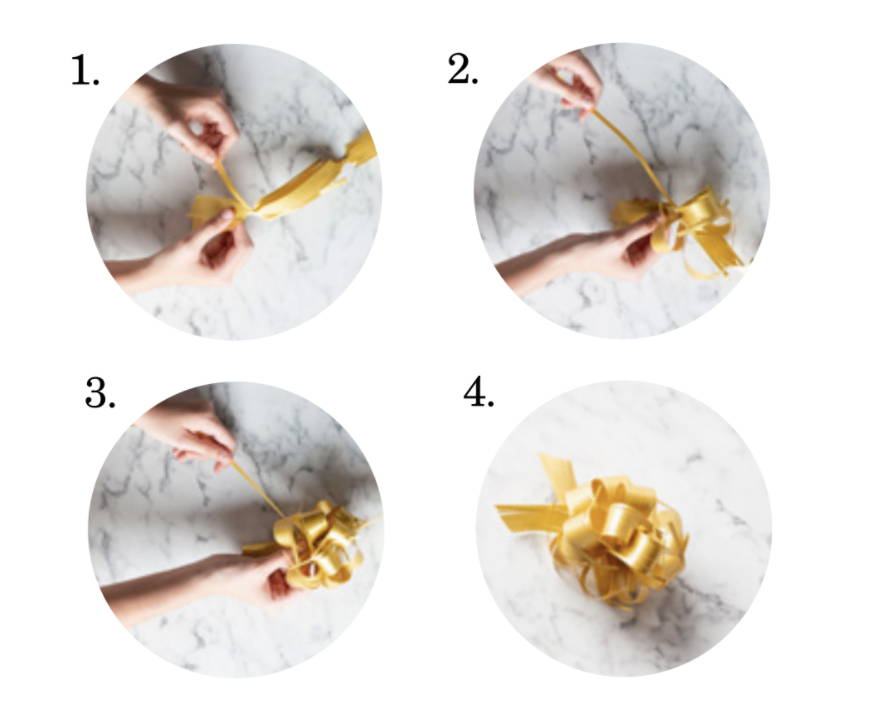 HOW TO HEAT-SHRINK A HAMPER

If you haven't come across a cellophane basket bags before, let us introduce you.
Cellophane shrink wrap bags are designed to quickly and easily seal the contents of your hamper. Made from thin heat-sensitive cellophane, these bags fit over your hamper tray and heat shrunk using a heat gun.
While learning to heat-shrink does take a bit of practice, when you get it right, it offers a really professional finish with the benefit of holding contents tightly in place so your hampers can be displayed on their side. That's great for merchandising.

If you're unsure what size bag will fit your hampers, order a shrink wrap sample pack and if you don't trust yourself with a heat gun, opt for these non-shrinking bags you can simply tie off with ribbon.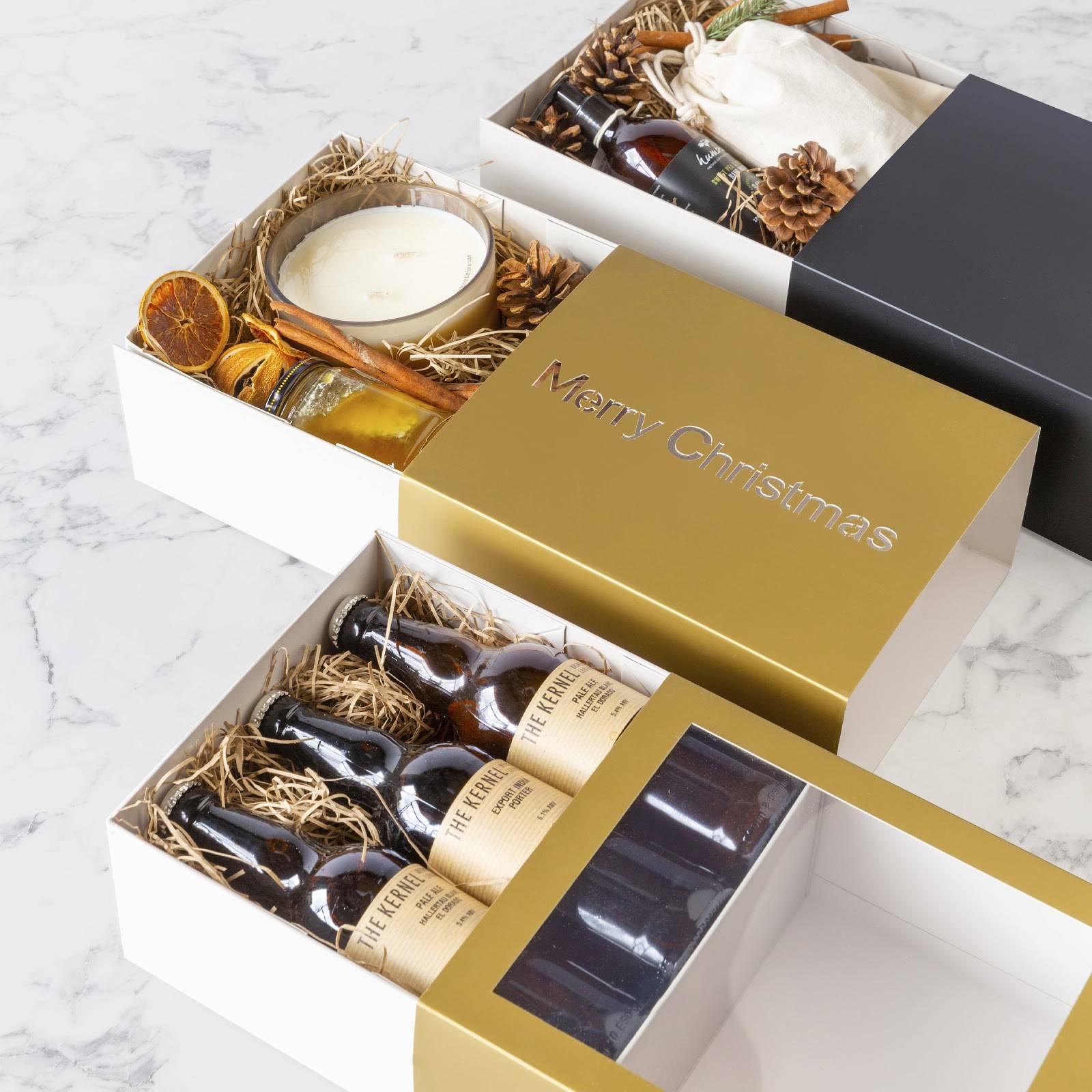 Gift trays are super-easy if you're just starting off on the road to gifting. They are simple to construct and come with accessories like cello lids or sleeves that do all the work for you. We have a bunch of new self adhesive folding boxes with festive sleeves in stock this season.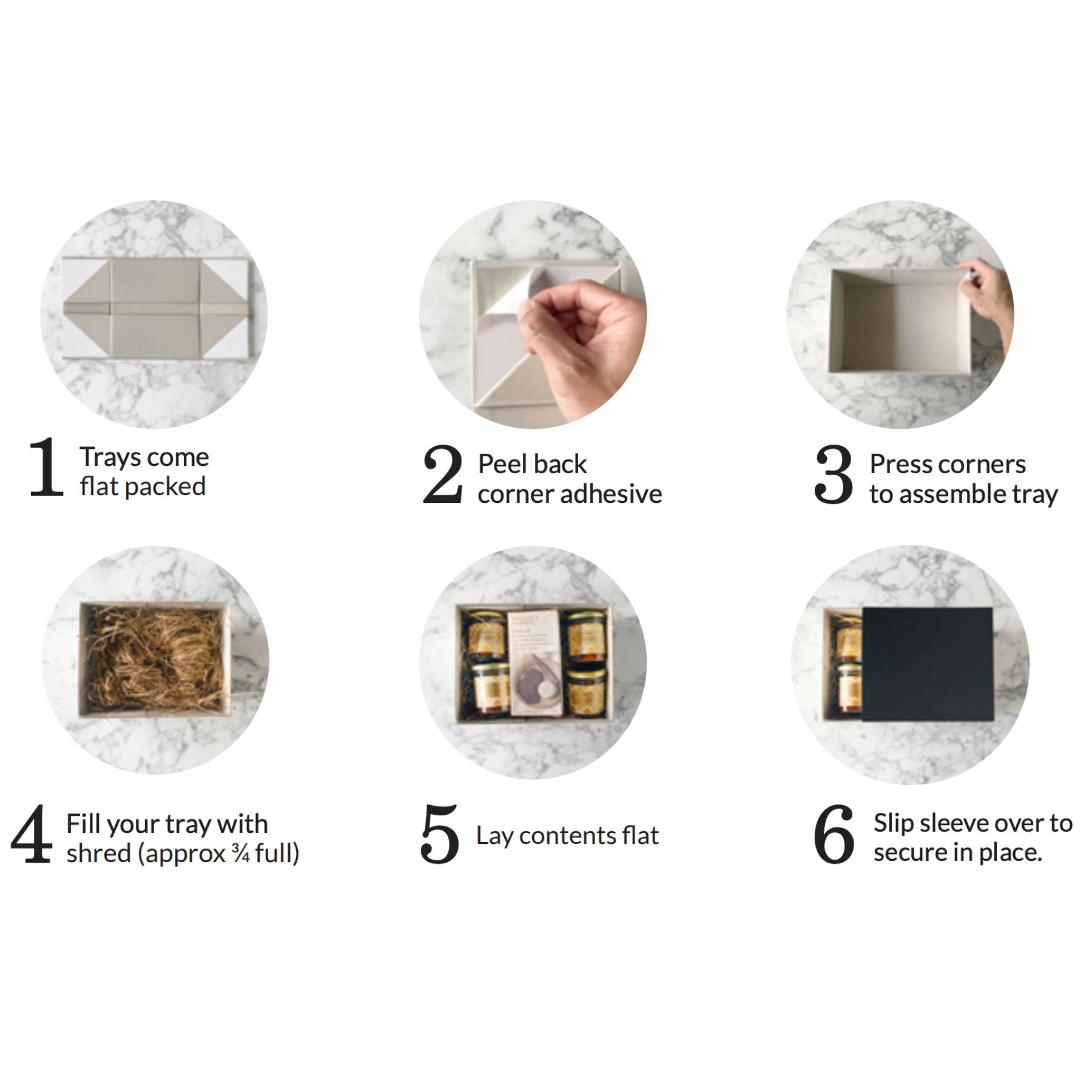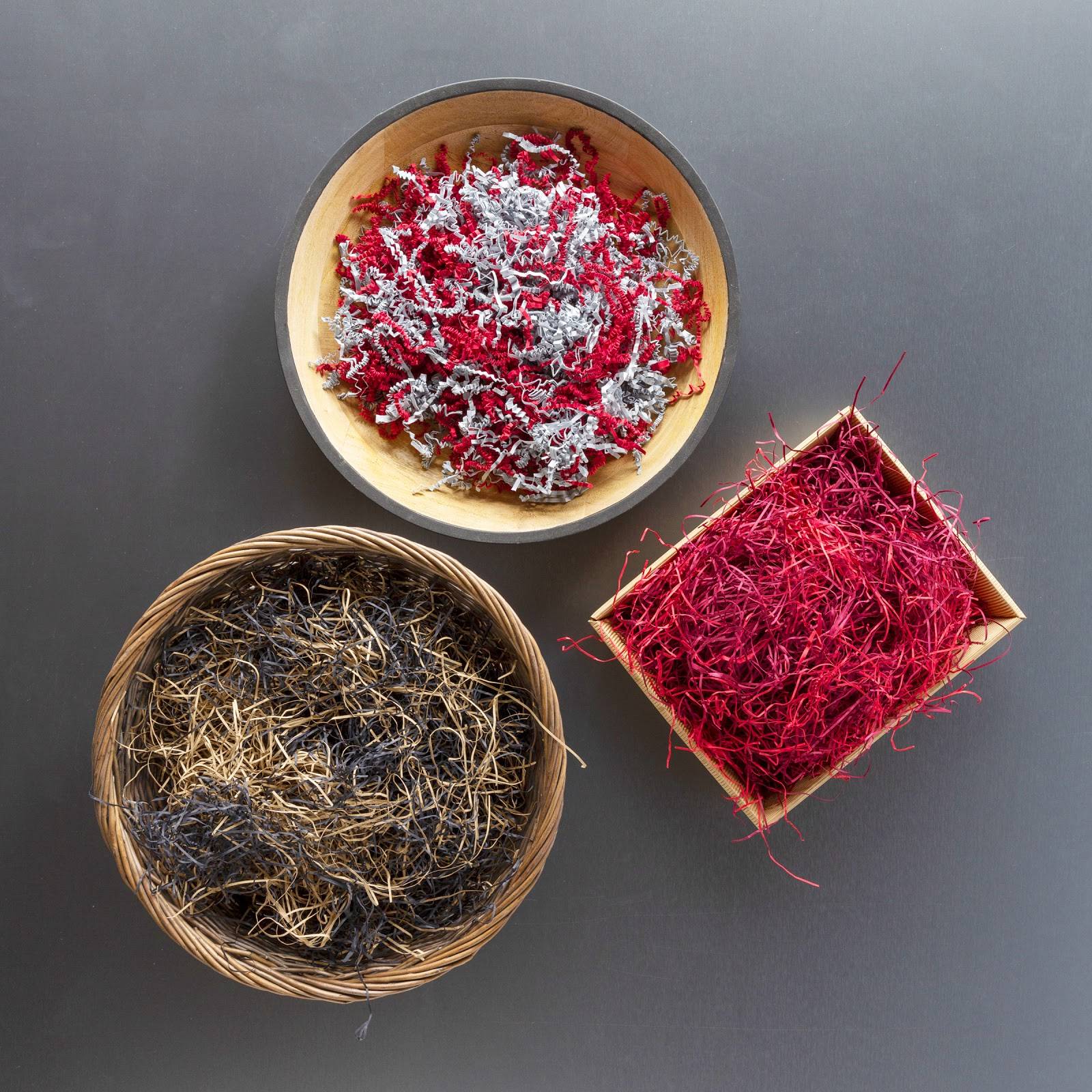 HOW TO BLEND & MIX HAMPER SHRED

Recyclable hamper shred and fill comes in an array of dazzling colours to help you stuff your hampers, showcase products, enhance your brand and protect goods all at the same time.
If that wasn't good enough, for those eco-warriors, it's worth noting that our SizzlePak and Very Fine Cut ranges are 100% recyclable and 100% biodegradable and our wood wool can be recycled, reused, composted or burned completely.
Blending together two different colours from the range isn't exactly rocket science and doesn't require a step by step guide, but it can create another layer of colours adding with it texture and richness to your hamper.
On our website, we list the amount of shred needed to fill your hamper box halfway but remember this economical trick of the trade. Fill your hamper base with the excess recycled packing material you have lying around, cover with a layer of tissue paper then add your shred. You'll make your shred stretch further.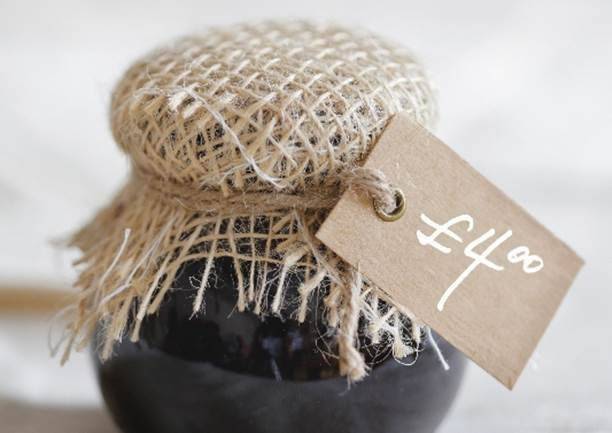 HOW TO TURN A JAR INTO A GIFT

So you're selling jars of preserves this season at your local farmer's market or deli shop? Why not turn your jars into take-away gifts and watch them fly off the shelf in record time. We love this idea sent into us because it really is as simple as it looks. It immediately transforms this simple jar into a classic gift.
Take some jute ribbon or fabric, cut a square of fabric to the size of your jar lid. Then hold it in place with some jute twine. We've cut down a standard kraft gift tag purely for aesthetic but you can use the original size too. Just a few seconds of work can reap rewards.