Published by ben@wbc.co.uk BigCommerce on 30th Oct 2023
If you haven't come across cellophane basket bags before, let us introduce you to what they are, why they're useful and how to shrink them using a heat gun.
Cellophane shrink wrap bags are designed to quickly and easily seal the contents of your hampers and give them the expert finish.
Made from thin heat-sensitive cellophane, once placed over your hamper basket gift trays, they can be heat shrunk using a hot air gun in order to keep contents snug and protected whether they're being sent through the post as mail-order hampers or displayed in-store.
Learning to heat-shrink does take a bit of practice. When you get it right, it offers a really professional finish and allows you to display hampers on their side, which is great for merchandising, especially when you have limited countertop space.
Remember the perceived value of a hamper is key when it comes to what your customer will pay. You can curl the end of a ribbon, but compare that to a beautiful handmade bow and see which looks more expensive! With all the right professional tools you can start to see your profits rise, and if you master this you'll be on your way to master hamper status!
All you need to get started is a hot air gun and a basket bag (please don't try this with a regular cellophane basket bag, make sure it's listed to shrink)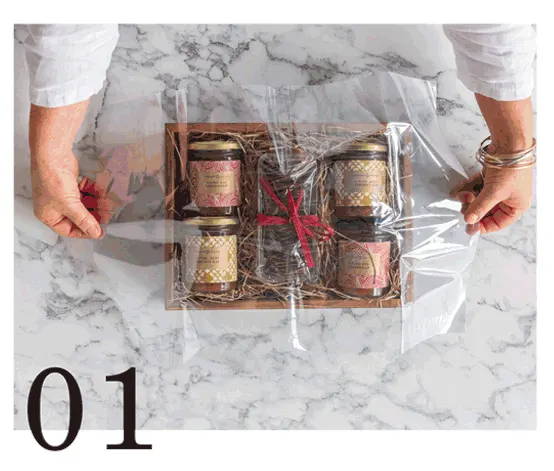 Choose your hamper and bag. Find the correct bag size online in the info section of your chosen hamper.
Slide your tray into the middle of the bag widthways, ensuring it's flush and snug at the end of the bag.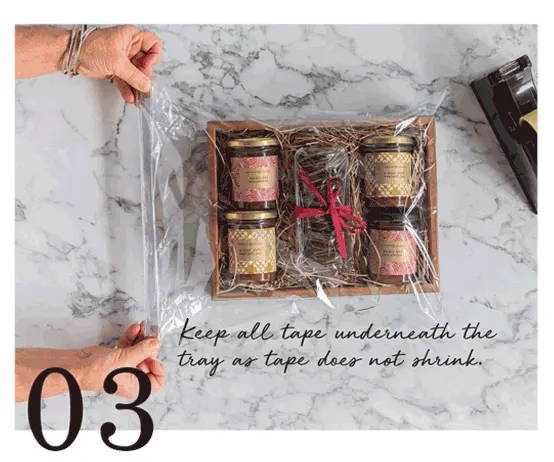 Gather the open end and fold it over twice then secure and seal with tape.
Tidy the excess bag by tucking and sealing the ends underneath your hamper then taping to secure in place.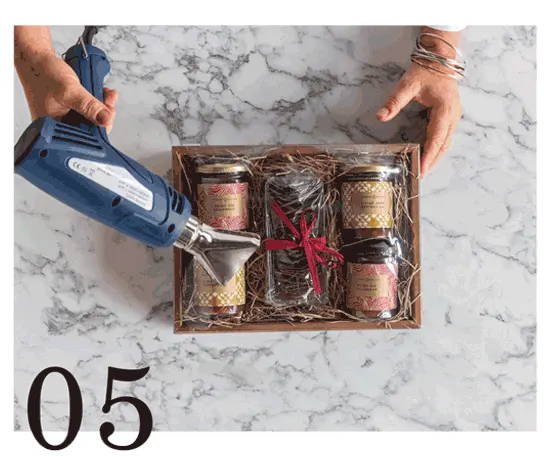 Keep your heat gun moving at all times and approx 10cm away. Sharp edges tighten faster, so take care.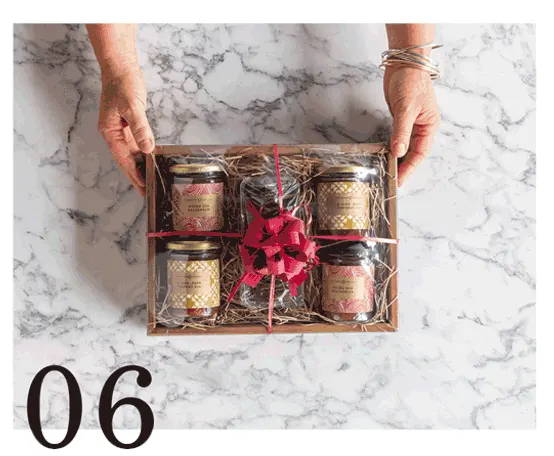 Decorate with bow, ribbon or gift tag. Remember, all our hampers have shipping outers for mail order.
We like to shrink the sides first, finishing on the top of the hamper. It's important to keep the gun moving - a hole will appear if you hold it in one place for too long. If this happens, don't worry you can often hide it with a gift bow!
Try it out with a sample pack
If you'd like to give it a go and see if heat shrinking cellophane basket bags could work for your hampers, why not shop our handy cellophane bag sample packs? The pack is ideal if you're unsure of which basket bag you need to suit your product. With a sample of each size to try out, you'll be able to make an informed decision.
Like the idea? Don't forget to send us your pics, we'd love to see your creations!