Create Effective Signage &
Ticketing In Your Store

Rose Miller, 17th May 2023
How do you create a retail space that is both functional and beautiful? A space that speaks to your customer in the right way and turns browsers into buyers?
The answer is communication!
Get your signage & ticketing right and you immediately bring displays to life, maximise sales and provide customers with a whole new level of experiential shopping.
Did you know signage & ticketing is the oldest form of marketing communication and remains one of the most effective - and least expensive - forms of advertising? 60% of businesses report a 10% increase in sales after adding or updating their signs, according to research by The Signage Foundation. From price tags to complex display signs, Point-Of-Sale (POS) signage essentially gives customers the information they need to buy confidently.

But how do you use this communication tool effectively in store?
While POS signage can be merely informative, creative retailers also use display signs as a tool to breathe life into their space. At WBC we have an extensive collection that covers both functional and imaginative solutions, so we've created a guide to help you work out which product works for your retail space, and to provide tips and ideas on how to use signage & ticketing creatively in your store.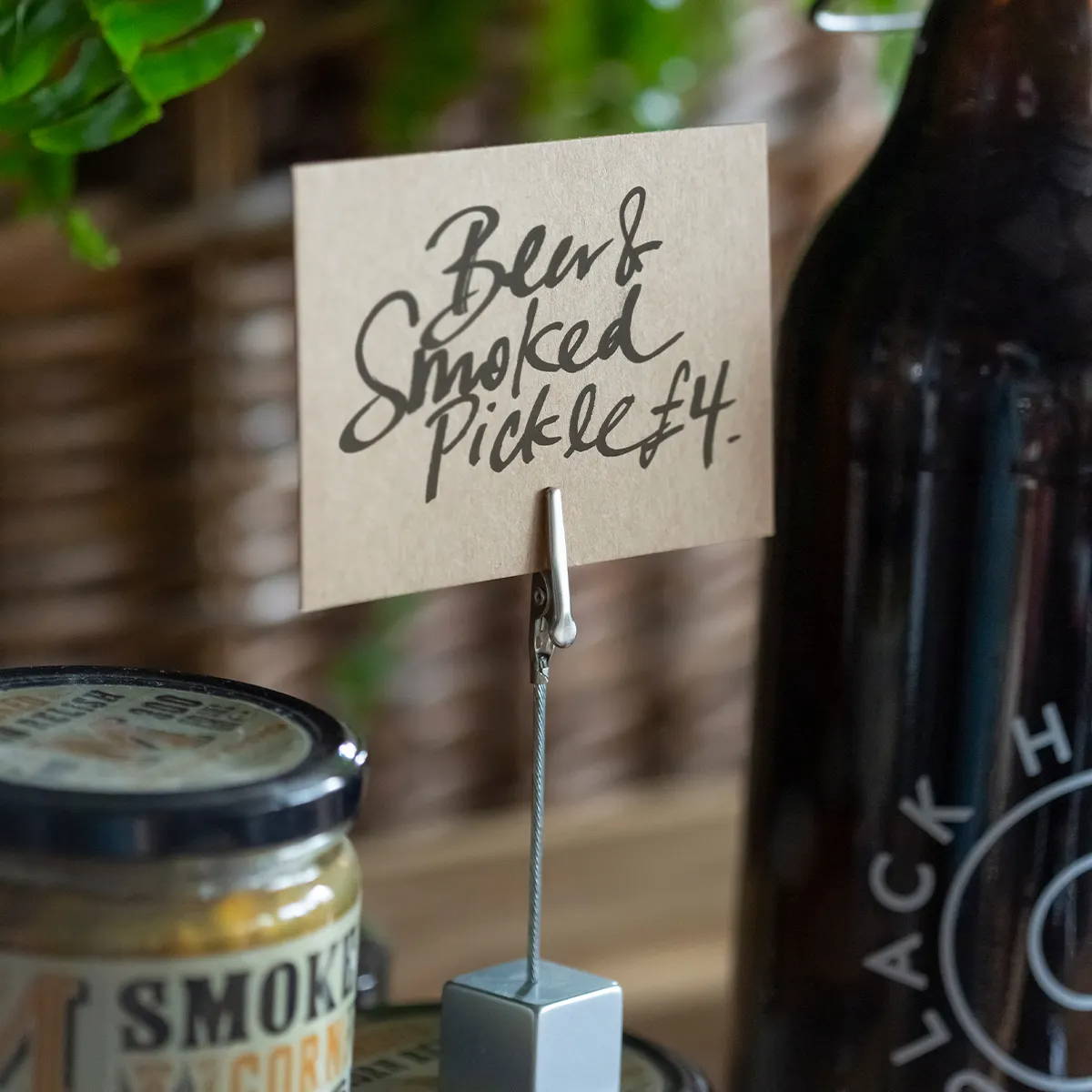 Is your countertop a feature point that takes centre stage in your retail space? If yes, then countertop signage is the choice for you.
For discreet signs that denote pricing, wholesale pricing cards make a great solution to provide the need-to-know information without drawing attention away from the selling points themselves.
Price cards that serve a purely functional purpose can still be chosen and placed mindfully!
From plastic bases to oak and marble, the choice of material depends on the environment you want to create in your space. The neutral colour of the oak base adds warmth, whereas the marble base is more of a statement piece.
Our pricing ticket holders come with either recyclable kraft paper or reversible chalkboard cards. The chalkboard tags are wipeable, reusable and reversible so can be used again and again, whereas the paper is a one-time use purchase. Both options can be written on for a handwritten personal touch, but the kraft paper offers the option for printing.

Quick tip: try arranging your ticket holders behind the product to position the product as the primary and the pricing as secondary.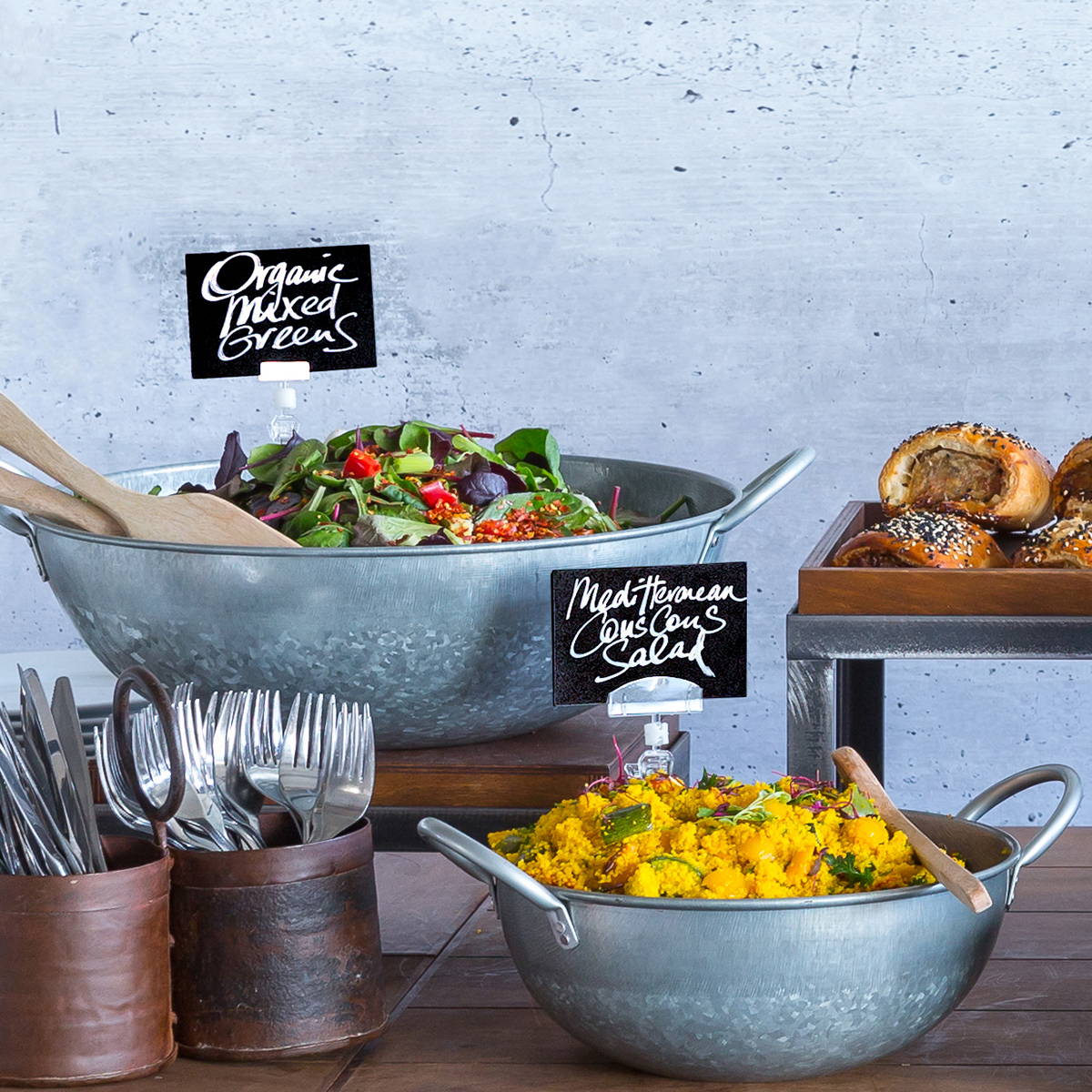 Are you limited on space in your retail area? Don't forget to use your shelves as a POS opportunity! Grip card holders are the most flexible solution as their ball and socket design mean you can adjust and shape as needed.
On the other hand, the plastic grippers are not very aesthetically pleasing, and if positioned incorrectly can create an obstruction. Instead, ensure your grips are bent to the side of the product so your customer can reach the shelf with easy access.


Quick tip: Add a grip and price tag to a hamper (or any stand alone product) to create a POS opportunity where there otherwise wouldn't have been!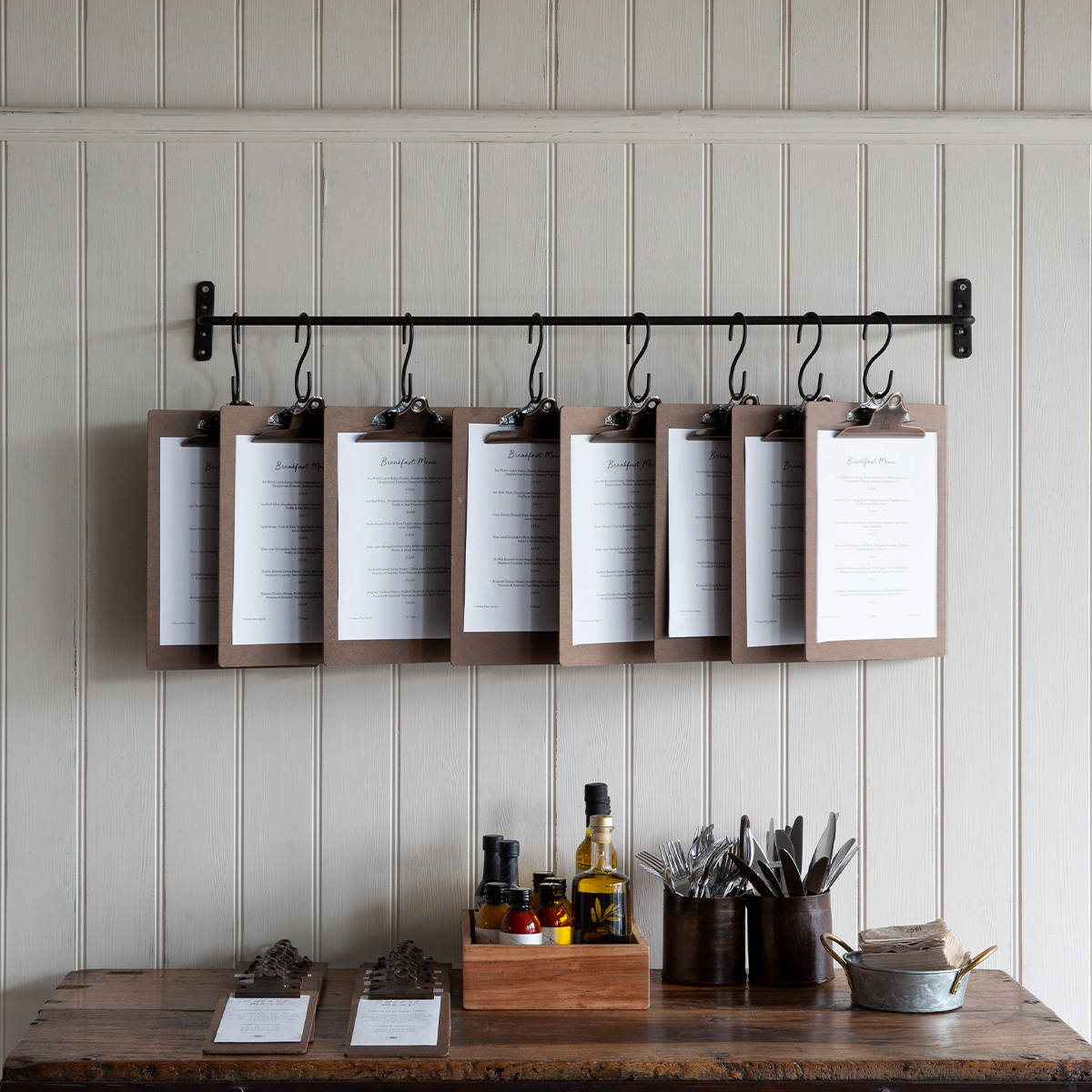 Table signs & menu boards
For retailers who want to add a little more backstory to their foodie products, A5 chalkboard signs work well for an allergen declaration, an ingredients list or a vegan label. They also make the perfect solution for products that need a little narrative to accompany the sale.
The A4 option works perfectly as a menu, so if you would rather not busy your display with lots of small tags, your A4 table sign could list all your products in one place.
Menu clipboards work in a similar way, except they're not free standing so are less of a signage solution and more of a menu that customers can take with them to their seat.
Quick tip: Place the table sign A frames to the left of any items as people read left to right so it will feel more natural for the customer.
Accessories & bottle neck holders
Many wine retailers find adding a label directly to their wine bottles, using bottleneck tags, adds a sophisticated nuance to the sale. For example, to describe what food the wine should be served with to create a full picture for the customer.
Living up to our one-stop-shop reputation, we provide bottle tags plus chalk markers, accessories and chalkboard cleaning spray to equip you with everything you need right away.


Quick tip: The label of the wine is a big selling point so be sure not to let your tag obstruct the view of the label.
Visit our showroom for a free 1:1 consultation. Whether you're looking to develop your ideas or see products up close and personal, this is your chance to get some expert advice.

Book your appointment here.