Choose the right Shredded Paper
Shredded paper: a no brainer for uplevelling any gift box or hamper. It adds very little to the weight of your package but a lot to the aesthetic and protective quality!
We have become the go-to shop for shredded paper because we know exactly what our customers need and we source our products to fit those requirements.
To help you make an informed choice on your shred & void fill purchases we've compiled a list of need-to-knows for each hamper filling option. And a little bit on how we do things so whenever you have a hamper to fill you think of us!
Our price promise, bulk buy options and eco-credentials make us a unique choice for getting the best at a good price.
Price promise - if you currently shop elsewhere, ask our team and we'll try and match your quote.

Bulk buy across all colour combos - we're offering discounts from 3/5 packs, saving you up to 25% off. Plus you can mix & match colours and still save.

Sustainable materials - most of our range is 100% recyclable & biodegradable. Plus all our shredded paper is made from at least 70% recycled material.
Our shredded paper is available in a wide variety of colours so you can choose your brand colours for a branded hamper experience.
Samples available if you'd like to test them out, just speak to our sales team.
SizzlePak: The effortless option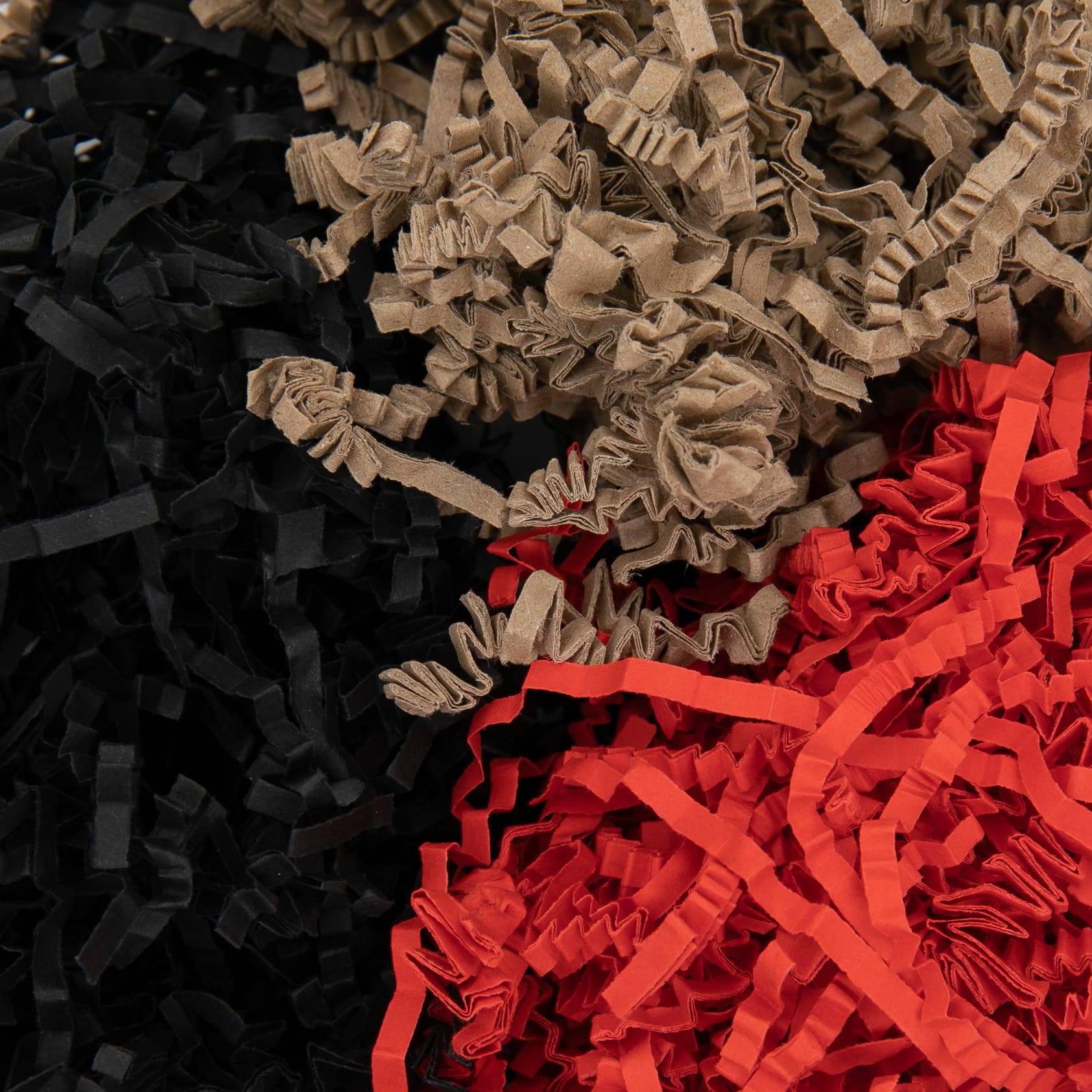 Our most popular
SizzlePak shredded paper is our most popular for its ease, efficiency and affordability

While many competitors offer 2-ply shredded paper, our 3-ply one is thicker and more durable meaning your fill won't tear as you pack, and you need less of it to fill your boxes.

Ready-to-pack means it requires no detangling. Simply pick up a handful and drop into your package. Effortless!
Best used for
Ideal for packing, specifically for heavy objects like jars and bottles.

The clever concertina-style cut means the shredded paper filling retains its shape without compacting in transit.
Eco-friendly
Comes in an amazing collection of colours for every season, all of which are 100% reusable, recyclable and biodegradable.

The only exception is metallic colours that are not biodegradable.
Good to know
The coarse texture of SizzlePak creates a less premium look and has a more abrasive feel. But since it's more weighty you need less of it to fill your package, saving you those pennies!
Very Fine: The chic option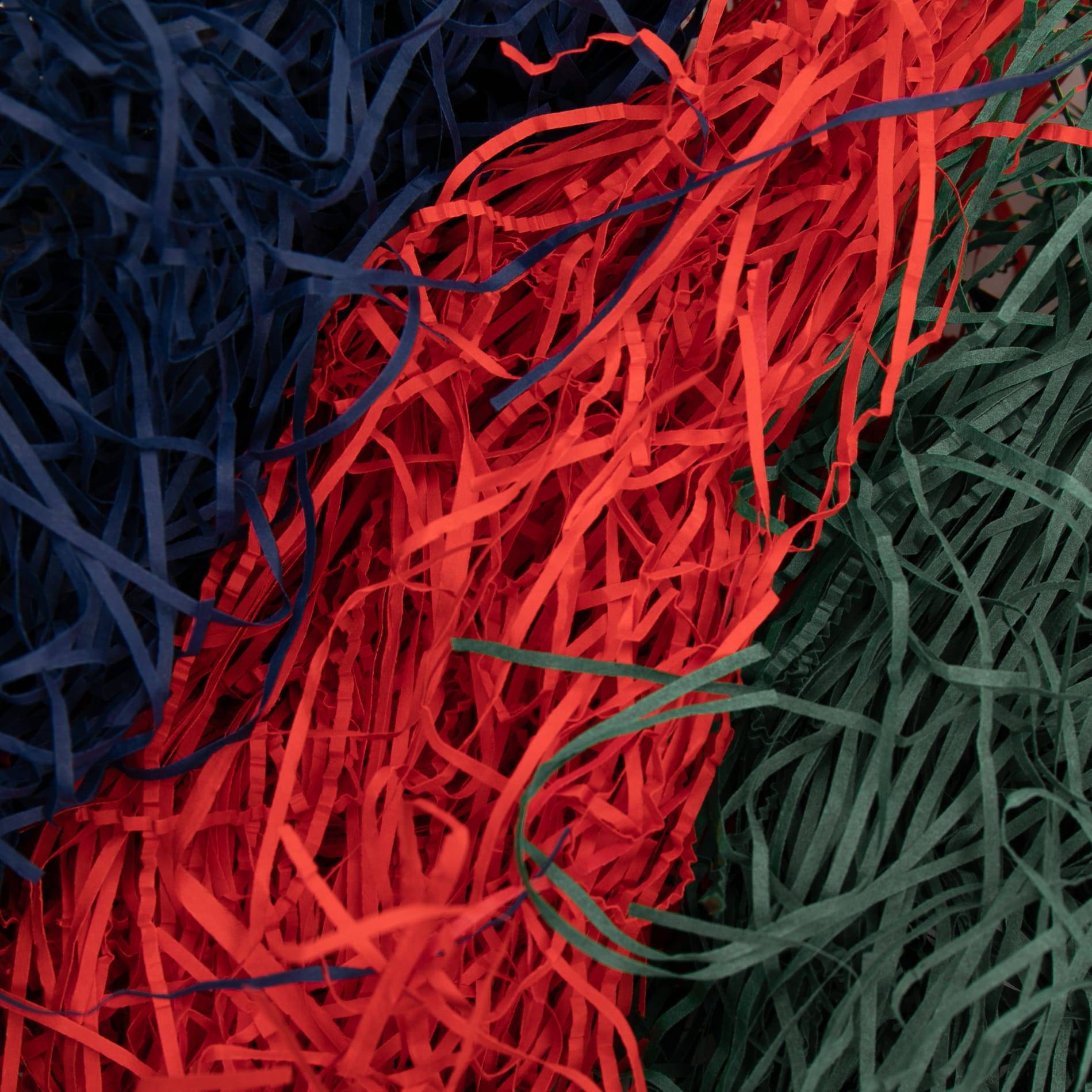 The chic option
Very Fine is indeed made with a finer texture, which gives a more upmarket look and a professional finish.

The softer, less coarse texture makes for an elegant gift box.
Best used for
Made from 1.5mm cut shred, Very Fine is ideal for small lightweight boxes and gift bags.

Virtually dust-free, this is widely popular across the hamper, food and deli trade as it can directly come into contact with food.
Good to know
Very Fine needs to be teased apart due to the finer texture.

Due to its light weight, you need more of Very Fine to fill a hamper, making it a little pricier.

Not the ideal choice for large heavier items.
Eco-friendly
Comes in an array of vibrant colours, all 100% recyclable and biodegradable.
Wood Wool: The natural option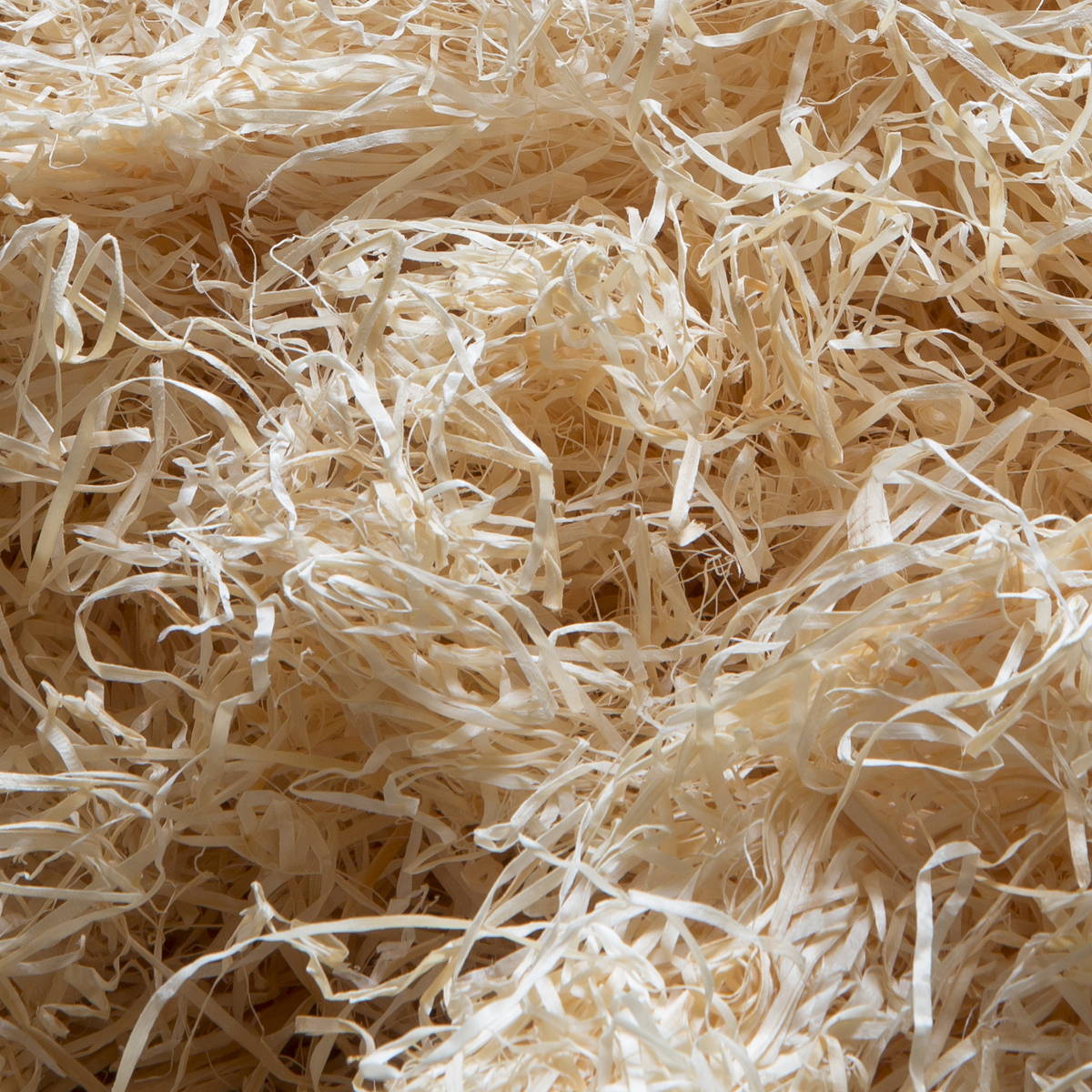 The most natural option
For a natural, authentic look these eco-friendly hamper fillers are a great choice.

Wood wool is kiln dried so no nasty chemicals are used in its production.

Best used for
As it's natural, biodegradable and PEFC approved (programme for the Endorsement of Forest Certification), wood wool can also come into direct contact with food.

Most commonly used in hampers & popular throughout the gift industry.
Eco-friendly
A packing material made from the excess wood shavings of the pine and spruce tree that might otherwise be thrown away.

Biodegradable, natural and sustainably sourced.

Recyclable, reusable, compostable and burnable.
Good to know
Whilst it looks more similar to the more premium Very Fine packaging solution, Wood Wool has a thicker, more coarse texture.

Wood Wool only comes in one natural colour.