Published by ben@wbc.co.uk BigCommerce on 30th Oct 2023
Best Corporate Gift Packaging Ideas:

BUYING GUIDE | 12TH OCT 2022
WBC's personalisation service is the UK's premium solution for corporate gift packaging. Wowing clients and targeting local businesses with promotional gifts and personalised staff incentives is simple and painless with a service like ours. This could be your chance to take advantage of the profits to be made from corporate gifting, and deliver memorable gifts your clients or staff will love


With a service as simple and painless as ours, this could be your chance to take advantage of the profits to be made from it, and deliver memorable gifts your clients or staff will love!
Choose WBC For Your
Corporate Gift Packaging
Corporate gifting is a hard task to get right...


Let's face it, you're appealing to the masses and for those whose job it is to source the right gift, there is a lot to wade through on the internet. Whether you're rewarding employees or building relationships with key stakeholders, let us take away the headache and get it right for you the first time.


We really are good at our job here at WBC. From brief to finished product, our team of experts deliver a seamless customer experience that hopefully keeps us on your speed dial year after year.


As one of the UK's largest suppliers of gift packaging, we follow the trends and produce new packaging ideas each year so your offering is always fresh and ahead of the competition, Give us a call today and our team of experts (who are also really friendly) will advise you on the best packaging for your needs and budget.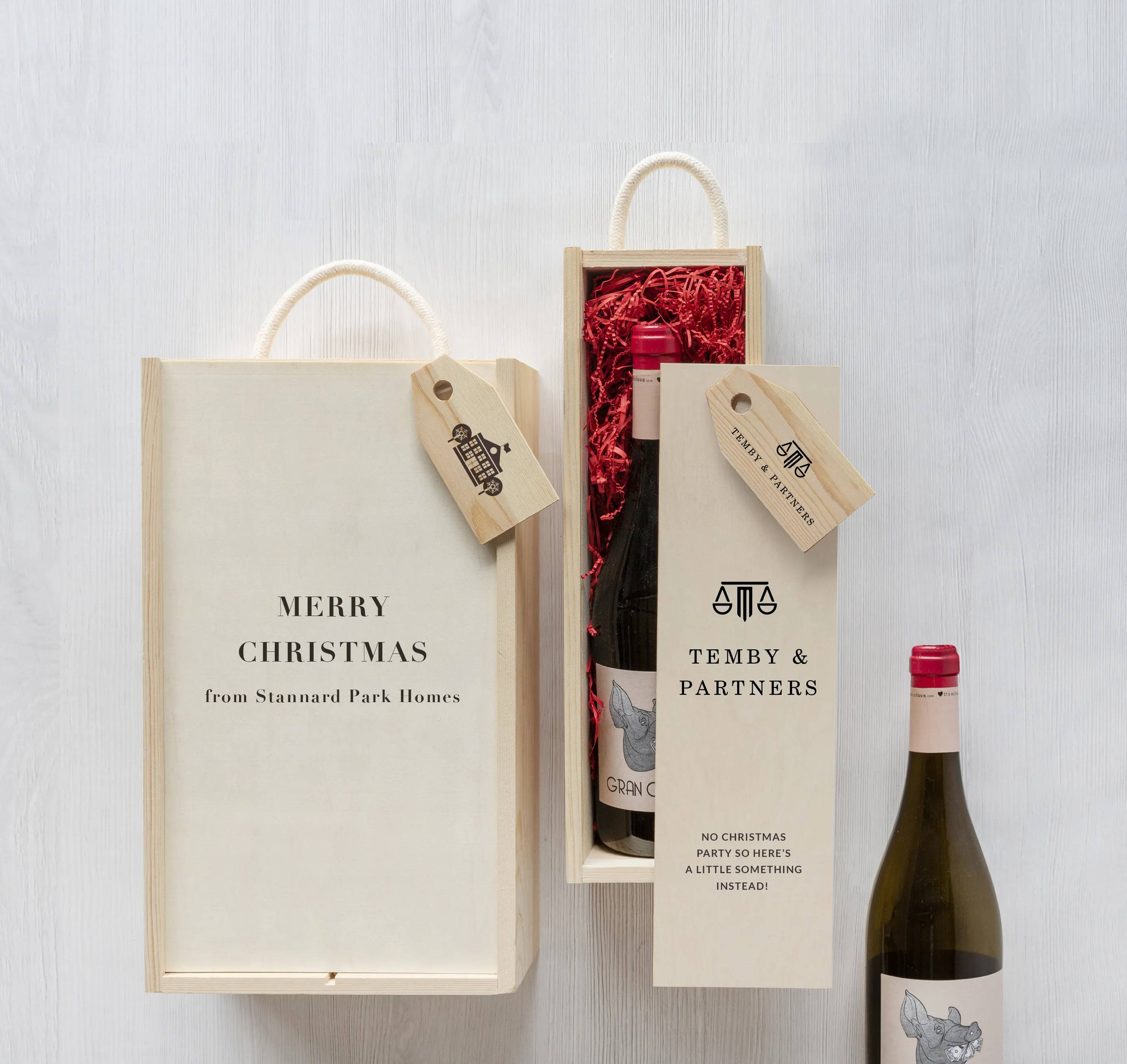 An oldie but a goodie, it's no accident that the wooden gift box for bottles makes our top 5 best corporate gift packaging ideas for 2022.


Did you know that WBC's one-bottle wooden wine box is still to this day our best selling product ever? It's the perfect upgrade to wicker and card, an affordable luxury that immediately adds perceived value and gives clients two gifts for the price of one.


At WBC, we only use "good wood" and all our boxes are made from quality approved Tung, Pine, Elm or Plywood and always finished to the very highest of standards.


Print options include laser engraving and screen printing from as little as 50 pieces.
CORPORATE GIFT PACKAGING TOP TIP:
Most of our wooden boxes are designed to fit a standard wine and Champagne bottle with a maximum size for 90 x 330mm. Don't forget to turn this box into an elegant gift by adding one of our pre-printed gift tags or lids. And if you're sending it out to staff, our specially designed protective outers will ensure they arrive in tip-top shape every time.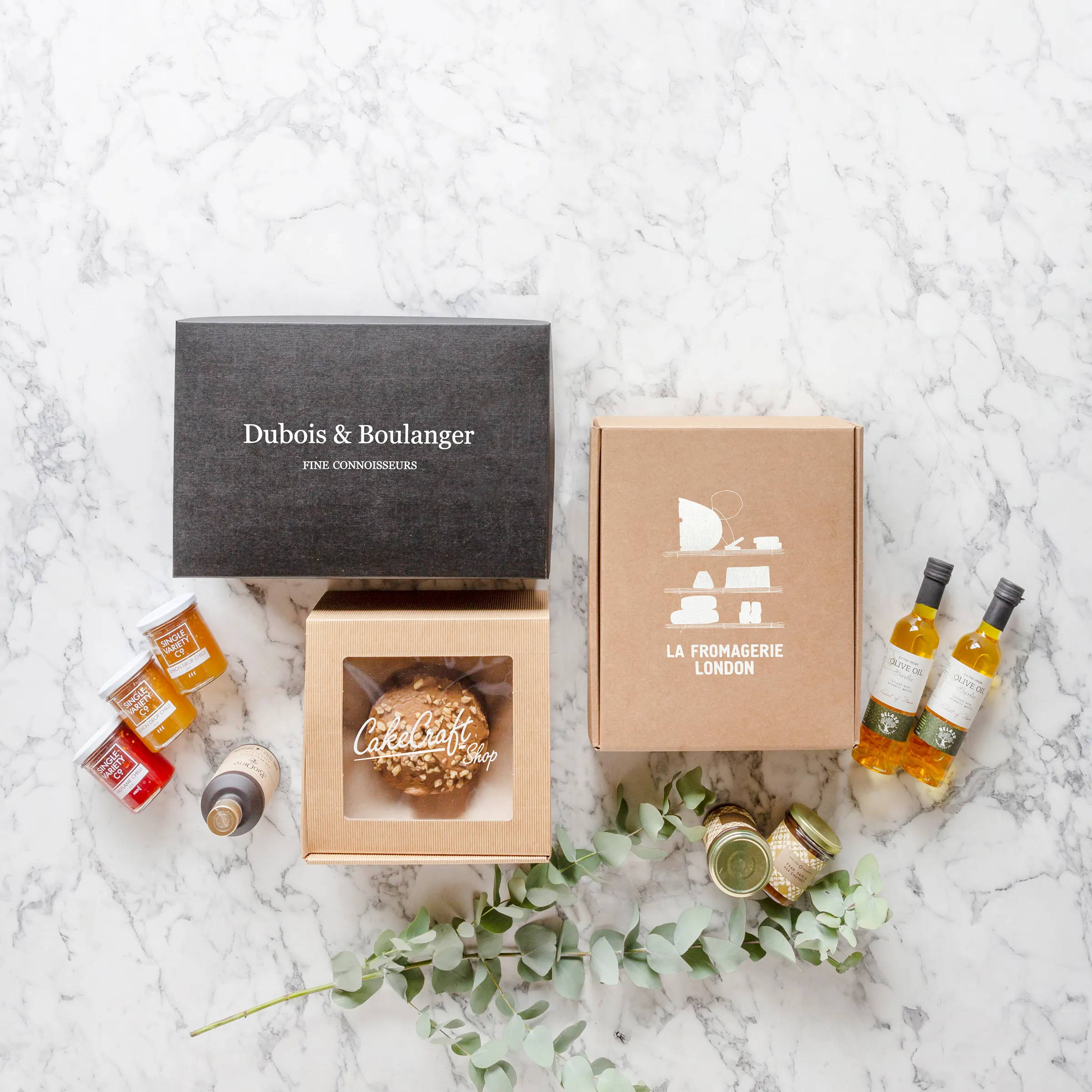 Gifting is not all about huge lavish hampers. It's easy to turn smaller items like chocolates, a Christmas pudding or a bottle of wine into Christmas gifts using the humble gift cartons.
We have a range of cost-effective festive options perfect for corporate gifts and staff incentives. And the best bit? They all come flat-packed and built-in seconds, which means whoever draws the short straw and has to make these up in bulk, will do so in record time!
CORPORATE GIFT PACKAGING TOP TIP:
It's the finishing touches that make a gift extra personal. We have a range of gift tags that help you dress gifts in style. Check out our range of stickers, bows and ribbons to complete your look.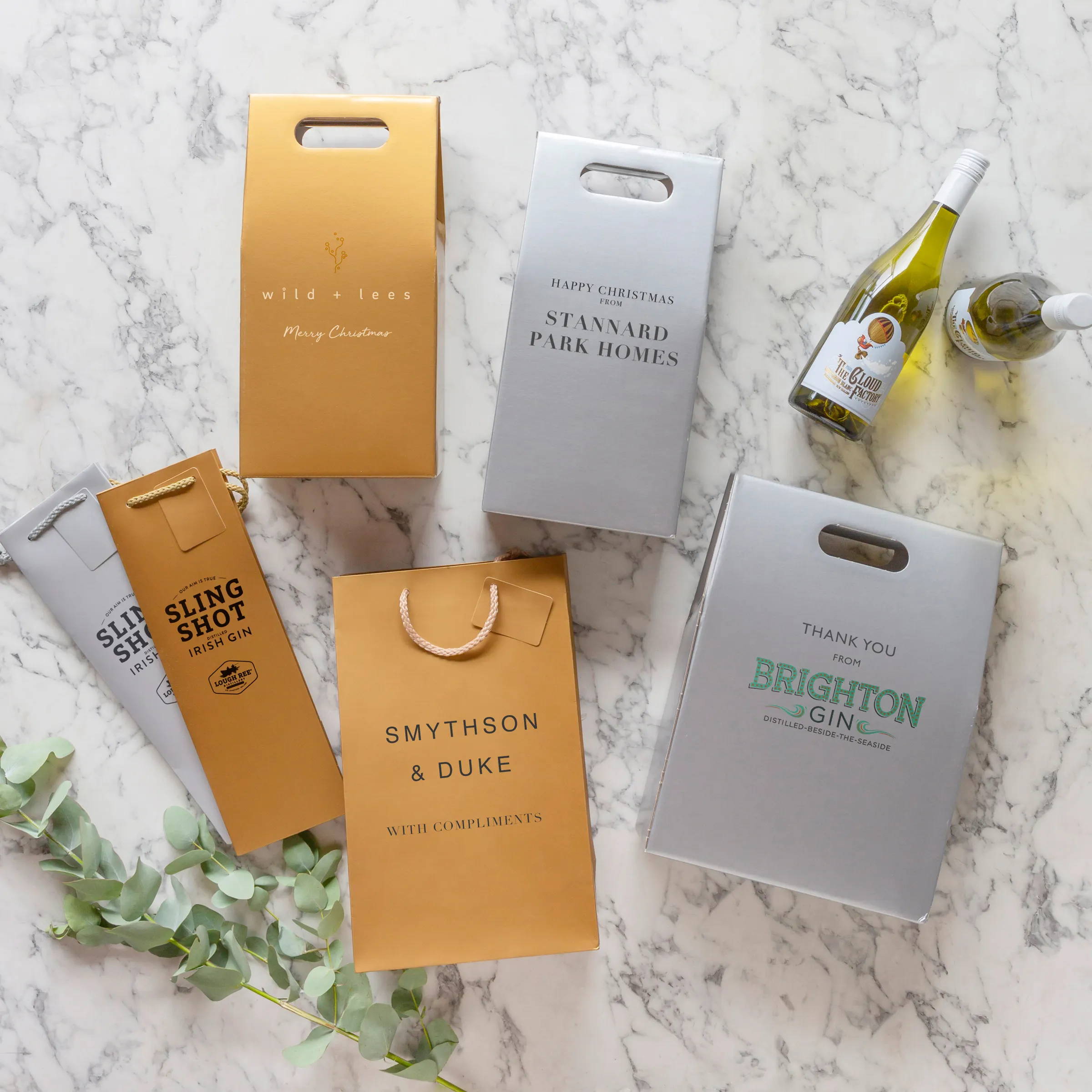 When you're looking for a gift that shows you care without appearing overly flashy - send them a bottle of wine (or beer)!


Everyone loves a bottle and sending it in a gift bag or carton is a simple and cost-effective way to make it extra special. If you're a wine merchant this can be a great way to offer an add-on corporate gifting service to local businesses in your area.


All our bottle bags are 100% recyclable and designed to fit up to a standard bottle of Champagne. They come with a matching gift tag for personalisation and you can choose plain versions or we can print them with your company name or logo in 7-10 days.
CORPORATE GIFT PACKAGING TOP TIP:
Looking for the cheater's guide to winning at gift bows every time? Let us introduce you to the pull bow! Here's how to tie a pull bow and you can shop the range here. Gift bows in seconds or your money back. Not really, but they do take seconds!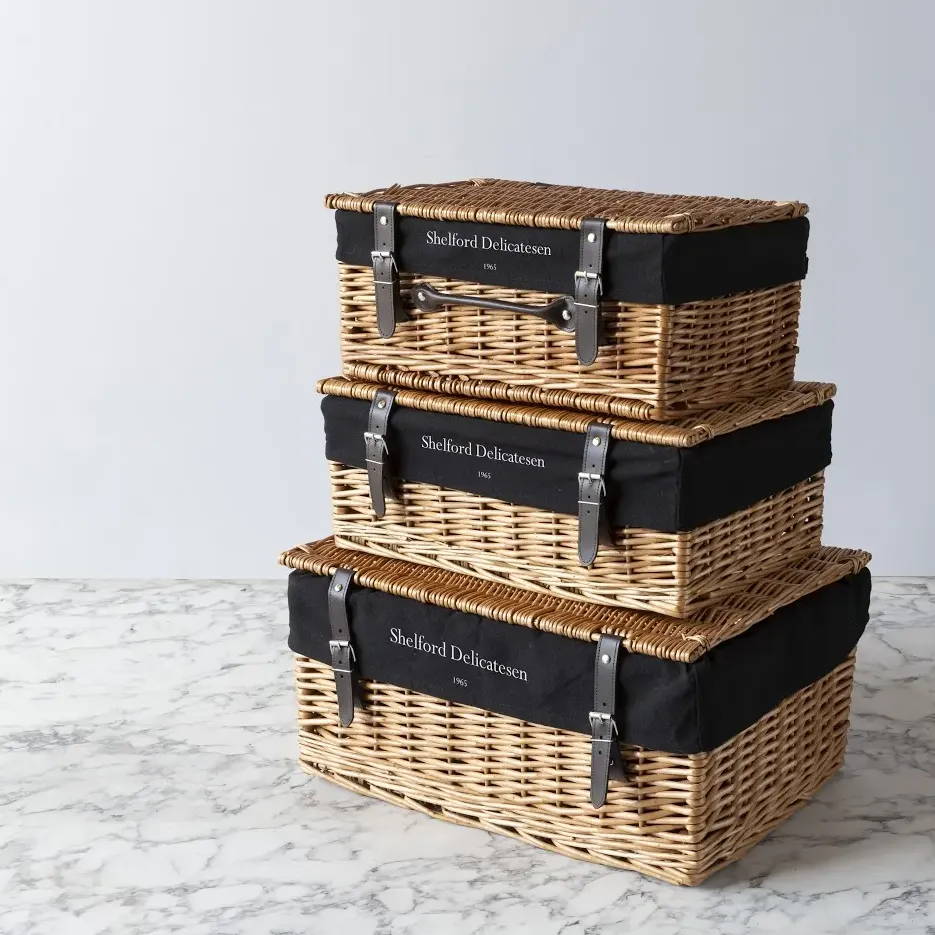 Does anything say it better than a wicker hamper? Always timeless, always classy; but perhaps one of the things we most love about traditional wicker is that nothing is thrown away and nothing goes to waste. It's literally the gift that keeps on giving.


This season's wicker catapults traditional gifting into a contemporary style with linings that can be embroidered with a corporate name or logo. These are the height of luxury so if you have clients to thank or impress (or apologise to) these will do just nicely.


And if there are any businesses out there thinking of sending these out to their staff this season, well let's be honest, send them this and you'll have staff for life.
CORPORATE GIFT PACKAGING TOP TIP:
When it comes to your reputation, anything less than your corporate gift arriving in one piece is never an option. With the correct protective packaging, sending wicker hampers through the courier network is a simple process. Most of our wicker hampers have specific transit outers ready for you to start sending them. Ask our expert team for more information.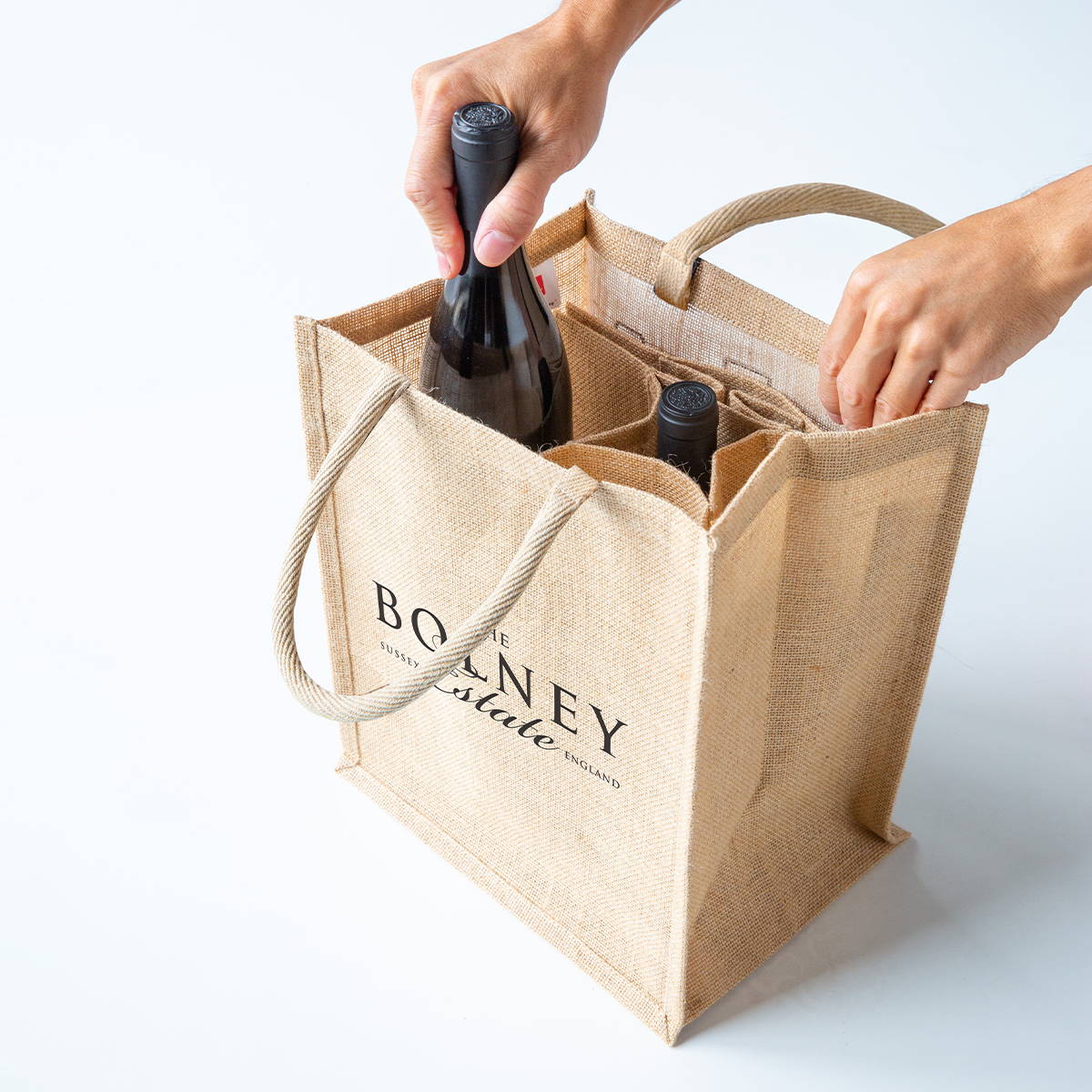 From jute carriers and cotton shoppers to brand new Santa sacks, bags might not be the first thing you think of when it comes to corporate gifting, but they're bang up to date and on-trend this season.


Buy them playing from stock or overprint them with a company name or logo using our 7-10 day printing service. Then simply fill them up and send them out.
CORPORATE GIFT PACKAGING TOP TIP:
Jute gift bags make a great alternative hamper that you can put together in bulk, quickly. Simply fill the bag, cover the contents with some shred, add a tag and you're good to go
Get in touch with our corporate gifting experts to discuss your project and let us find a solution tailored to your needs.