Published by ben@wbc.co.uk BigCommerce on 31st Oct 2023
When you're looking for hamper packaging ideas for small budgets, the good news is, successful gifting doesn't have to be about huge lavish hampers in the first place. Small, quick and easy and at a price point that doesn't make your eyes water, can be just as beautiful too.
At WBC we have many simple gift and hamper packaging ideas that cost just pennies extra but when dressed with the right finishing touches, can help you pack on extra profit. Clever gifting is all about minimising your outlay and maximising the perceived value of your hamper. Get that ratio correct and you'll be on to a winner.
Remember! 'Self-selection' is a wonderful and intimate concept for those who have time and space to offer it, but having a few simple pre-prepared gifts to hand in your store, takes indecision out of the equation along with the embarrassment of customers holding up a queue. Branching out into time-saving, pre-packed hamper initiatives will maximise your profits and introduce a new range of clients.
1. Gift Trays That Always Pay

If you've never tried gifting before, or you're on a tight budget and looking for a low-cost gifting option - always start with the humble gift tray.
Card gift trays always show up to save the day because they're cheap as chips, insanely easy to use, build in seconds and tick the boxes for recyclability.
Our gift trays are sold in handy pack sizes of just 25 pieces so it's easy to have them by the till or ready-made on the shop floor. The fact they come flat packed makes storage easy, so all in all, a great starter hamper as well as a handy all year rounder.
Costing from as little as £1.75 per card gift trays, they are a fraction of the cost of other materials and will help you quickly make up a variety of differently themed hampers using one standard carton.
Card gift trays come in a variety of colours and sizes; all with useful acetate lids sold separately For a cheaper alternative you could wrap yours in cellophane gift wrap or cellophane basket bags to hold contents in place.
When the budget is tight, don't worry about buying seasonal specific packaging, we do sell Christmas boxes, of course, but by choosing a standard carton you can use all-year round and accessorising it using ribbons, bows, stickers and gift tags, you'll avoid the danger of overstocking and save budget in the process.
S

mall Kraft Card Tray per unit

£1.75

Black Hamper Shred (5kg box)

£0.50

Black Tissue Paper (100 sheets)

£0.11

Gold Merry Christmas Sticker

£0.07



Total £2.43
Don't forget to do your homework when it comes to your hamper content. Many retailers miss this crucial detail. There's little point in making up a beautiful hamper if it doesn't make you a profit. Know your customer and what they will pay, but also do your sums, breaking down the cost of each component, the cost price of the contents and what you can sell it for.
Then sit back and count your pennies when they start to roll in.
During the busy holiday season, many retailers need a simple gift packaging solution. Unlike gift boxes, fabric bags require no assembly.

Plus they take up as little storage space as possible, when storage is a premium.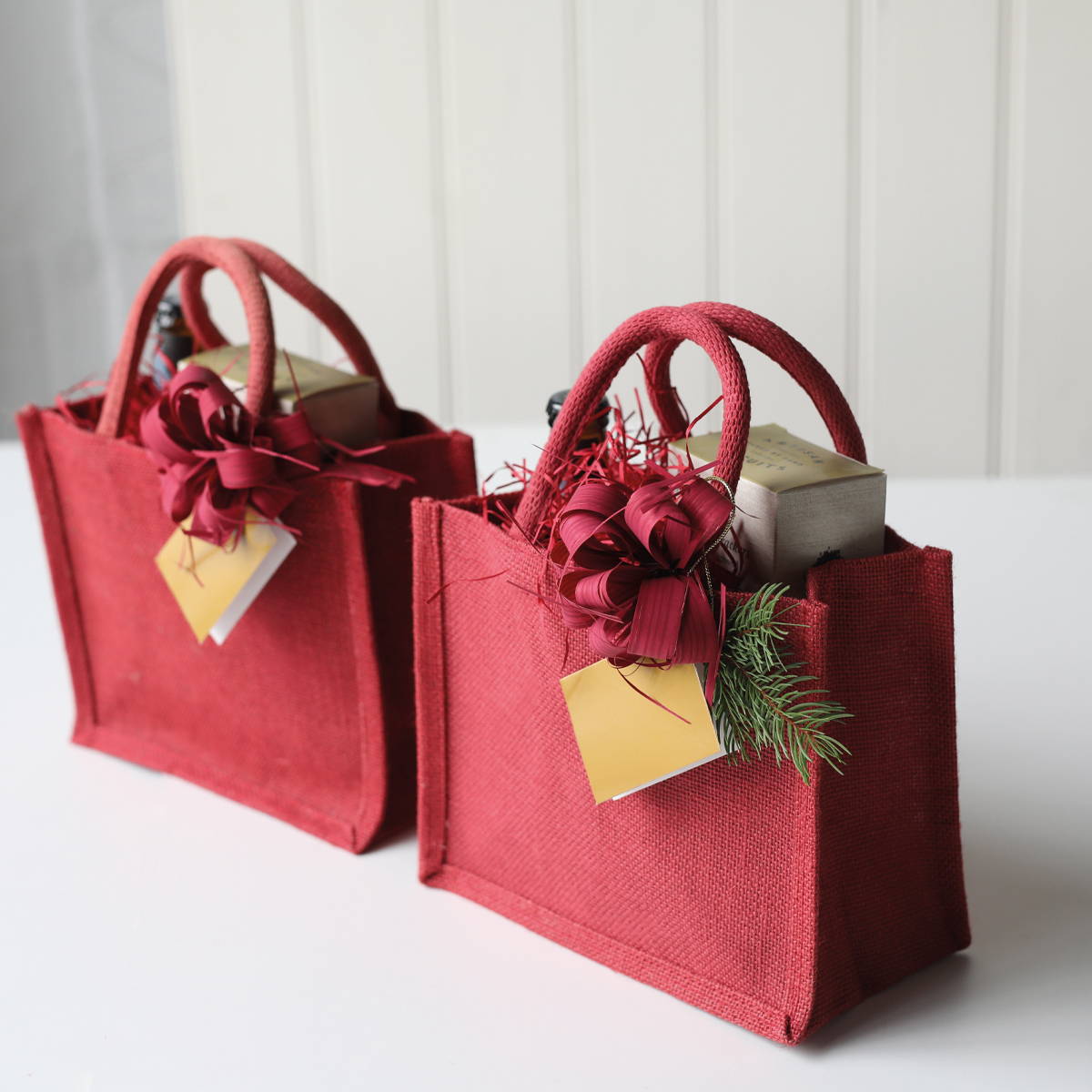 Fabric bags can be a wonderful alternative to wicker hampers and gift boxes and can be quickly and easily filled. Simply add your product with a little shred to keep them secure and add a seasonal gift tag or accessory to top it all off.
Especially useful for retailers who have a wide range of products that are not uniformly shaped. Fabric bags are available in a variety of sizes and can easily be used for any shape, and padded out with hamper shredded paper Despite your odd shapes, you'll be creating a more uniform display with your bagged products. Perfect for gifting chutneys, marmalades, jewellery, candles, hand cream, beauty products, chocolates or miniature bottles.
All our fabric bags are made from a natural material, cotton or jute. We suggest keeping your stash by your counter for a quick and budget-busting gift wrapping ideas. Or better yet, set up a point of sale display to boost add on sales with your new festive gift bags.
Mini Red Jute Bag

£1.98

Very Fine Cut Hamper Shred

£0.50

Small Raffia Pull Bow

£0.28

Metallic Gift Tag

£0.20
Total £2.43
3. Post It Or Gift It In Store

We love simple gifting and this cheap and cheerful packaging idea for small budgets is right on the money. While self-seal ecommerce boxes may have been designed primarily for mail order hampers, we like the utilitarian and natural feel of a box like this packed to the brim with goodies.
Stylishly dressed with shred and fill to match your brand colours or offset the tones in your chosen products, we think it looks every inch a hamper in its own right.
Self-seal ecommerce boxes are made right here in the UK from 100% recyclable card. Like gift trays, they also come flat-packed for easy storage. But what is even better about them is the time they save with their handy tear-away strip that keeps contents secure and professionally finished. Perfect for subscription hampers and postal packs.
Self-Seal Ecommerce Boxes

£1.52

Very Fine Cut Hamper Shred

£0.50
Total £2.02


All these ideas and more can be found at wbc.co.uk/gift-packaging or shop our christmas collection at wbc.co.uk/christmas