Published by ben@wbc.co.uk BigCommerce on 26th Feb 2021
4 WAYS TO WIN AT SOCIAL DISTANCING

Shopping will not be going back to normal anytime soon. There will be strict social distancing guidelines that most of you will already be adhering or adapting to. As your one-stop-shop for retail supplies, there are a number of key product lines we have brought in to help you win at in-store social distancing with these back to business essentials.


One thing is clear. There's no getting away from it. There are a number of strange and innovative ways we'll do retailing in the future. From closed changing rooms and one-way systems to restrictions on touching merchandise. These and many more rules are tipped to greet shoppers when non-essential retailers reopen stores next month.


While larger companies like Asda, have budgets to set up virtual queuing systems that allow shoppers to hold their place in the line via a phone app. Or Aldi who are installing traffic light systems, to control customer flow. For the vast majority of smaller retailers, delis, farm shops and wine merchants, it doesn't have to become a headache or stretch your budget. You need simple solutions for setting up quickly and effectively.
---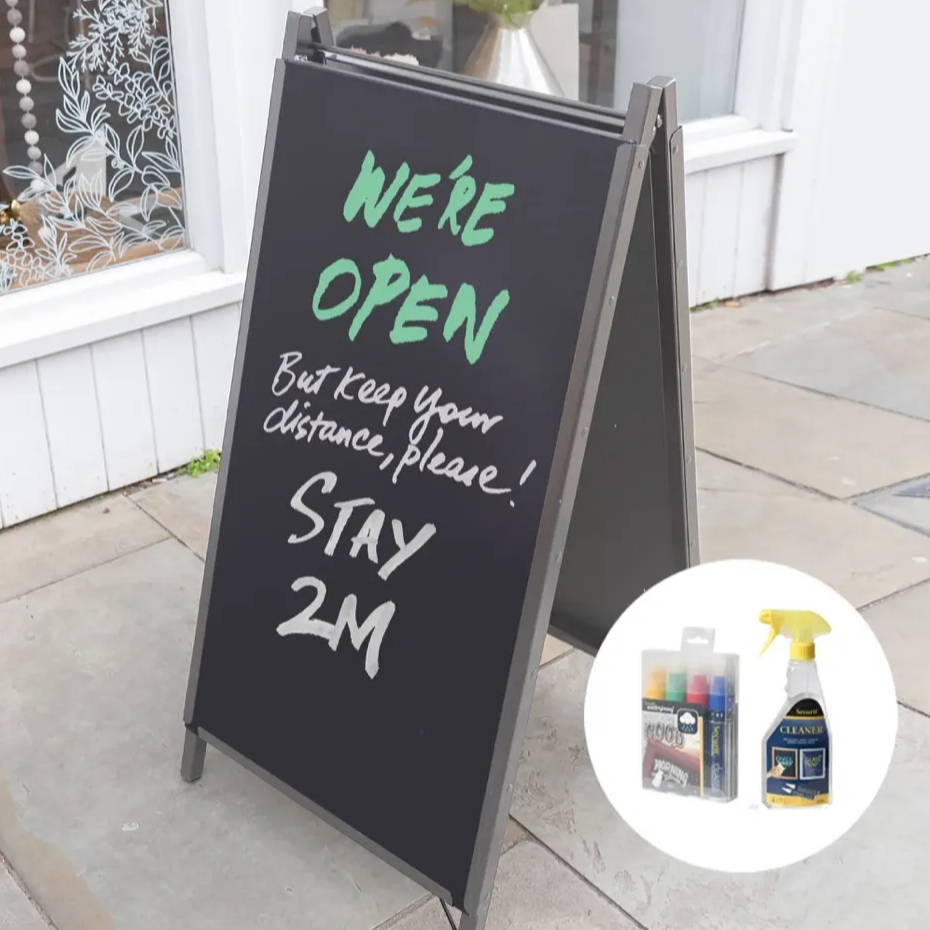 We bang on about this often, but your signage is everything, especially right now.


Too much information and your customer switches off. Too little, and your customer may miss you altogether. As we start to venture back to the high streets, it's fair to say nerves may still be on edge for some shoppers. So when it comes to creating a safe and welcoming space, communication is top of your list so you instil the confidence that says you have it all under control.
There are 3 elements of in-store graphics and communication that are very important.


Announce – Where you tell your customers your brand name before and when they enter the store. Also, think about reminding customers that you've created a safe space. Are there safety requirements you need to communicate before they enter. This is a chance to stamp your mark. You could even change your message each day to keep it fresh and stand out. A-frames and chalkboard signage are great ways to change your message on the fly.


Amplify – Where you direct your customers around your store, so they effectively locate products while reminding them to social distance at the same time. Have you thought about creating a one-way system? In-store signage will help you control customer flow.


Inform – Where you communicate to customers all the key and important facts about your products and promotions. This includes product offers & pricing.
---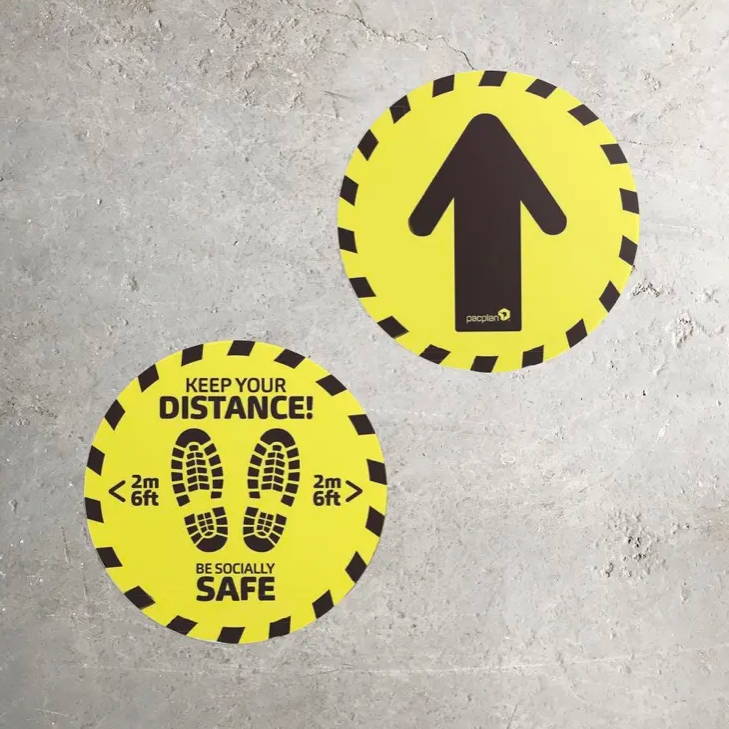 Protecting staff and customers is the aim of the game. That's we've brought in a range of floor stickers and safety tape. Whether it's at entrances and exits to guide your guests at a safe distance through your business, these are essentials you'll want as part of your kit.
---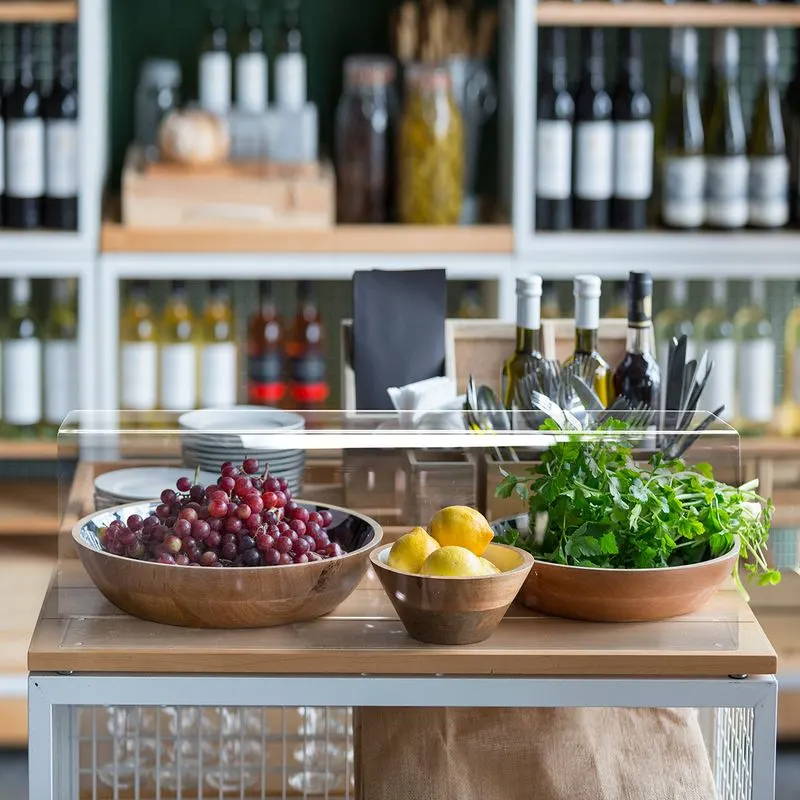 We been talking about sneeze guards even before the Covid crisis.
Today, they become more important than ever. Acrylic protection screens at sales counters can be arranged at the countertop. Plan where to place them and allow space for merchandise and more importantly accessibility e.g. wheelchair users etc.
As well as our food guards and acrylic domes, we've augmented our range to include a new acrylic protection screen for safety at the till. These are a great way to create an informal barrier that keeps food and people, tucked away safely, yet still on display. Does your business need one?
---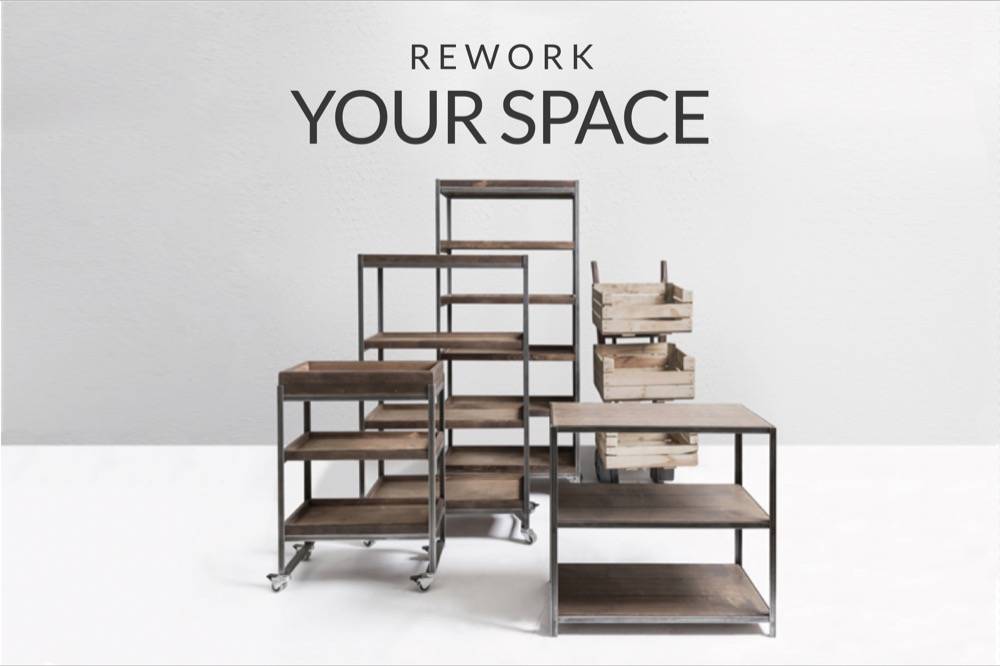 Stepping out of our homely comfort spaces into crowded shopping environments is going to feel a bit nerve-wracking for many. So it pays to start thinking about your space and how it can work safely and effectively.
For the most part, retailers have been given strict inductions on how to account for physical and hygiene. Many delis farm shops are already doing this. But if you are a restaurant or "non-essential" retailer reconfiguring your space, we have some tools that can help build clear shoppable spaces.
Here are some things to think about.
– Consider the space between fixtures, make sure there is enough room to navigate your space easily. Using Floor standing furniture, mobile shelving and BRIX modular units can help you flexibly adapt your space with minimal cost, time and permanency. They will help you channel queues and partition room into sections that work.
– Do you need to control how many people are in the store at any one time?
– Ensure there is enough space around the cash desk so everyone can wait easily
– If you haven't already thought about it, should you consider becoming cashless and only accepting card transactions? How will your space work for this